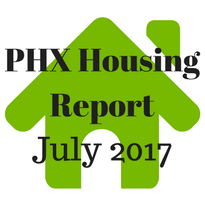 July 2017 Phoenix Housing Report
Home Sales
In July 2017 there were 8,022 housing sales. July's sales are 3% higher than those in July 2016 but 16% lower than those in June 2017. Is the big drop from June to July a reason for concern? No, and here's why:
May and June ranked in the top 10 sales months of all time in the Phoenix area. That's going back 18 years (216 months) since the current MLS took over in 2000.
Each year housing sales peak in either May or June (so a drop off in July is normal).
July 2017 sales were the highest on record since 2011.
7 months into 2017, housing sales are on pace to be the third-highest in the history of Phoenix Real Estate.
So, housing sales in each year peak in either May or June. Our July 2017 Phoenix Housing Report indicates this year's peak is May at 9,862 sales. Historically speaking, June had the highest number of housing sales in 2015 and 2016. May had the honors in 2013 and 2014.
Sell Your Home
Buy Your Home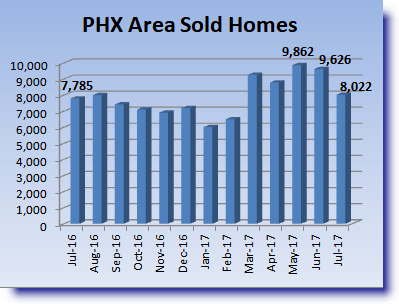 MLS Inventory
We've already seen that housing sales are doing very well. That's what makes our lack of housing inventory good for sellers and not so good for buyers. Remember that 26,000 listings are normal for the Metro Phoenix Area. This July 2017 Phoenix Housing Report shows August began with 17,440 listings, or 33% below normal levels. Homeowners are staying in their current homes.
It's no wonder sellers are maintaining their advantage and that annual, area-wide appreciation is running at 7.6% (measured by average dollars per square foot).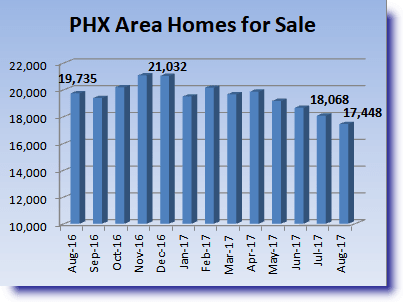 Market Index
The Cromford Market Index® is shown below. It's a visual indicator of where we stand in the current real estate market. Any number in the "green" favors sellers and any number in the "red" favors buyers. You can see the supply index is keeping us in a consistent sellers market. It's been that way over the last 2 years.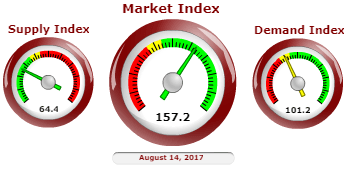 Our July 2017 Phoenix Housing Report lists the top 5 hottest seller's markets as: 1.) Mesa, 2.) Avondale (though cooling), 3.) Surprise, 4.) Chandler, and 5.) Gilbert. Contact us for information on other cities.
Home Pricing
"We experienced a significant price drop between June and July, but this is no surprise. It happens almost every year, and in fact the drop in 2016 was larger. The effect is primarily due to the decline in luxury home activity. On an annual basis appreciation is running at 7.6% when measured by average $/SF and 7.1% when measured by median sales price."
Mike Orr, Cromford Report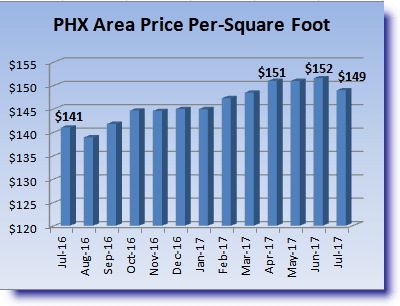 It should also be noted that prices are being driven higher by a persistent lack of supply, not irresponsible speculation and loose loan standards (circa 2005).
July 2017 Phoenix Housing Report, Metro Phoenix Homes LLC.