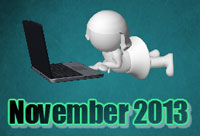 Last month we reported the Phoenix Housing Market had become stable and was on the edge of reverting back to a buyers market. Follow the link to see that detailed report for October 2013. Key indicators show we are still on that path.
Here's a quick summary of the November 2013 Phoenix Housing Market: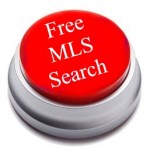 Phoenix Housing Market: Perspective
Let's look at a couple other factors to keep things interesting.
Listing prices -  The below chart indicates the average listing price of homes recently added to the MLS expressed in price per square foot. We typically see recently added home listings priced more aggressively at the beginning of the spring buying season with a decline during the summer months. This may be because sellers who missed the spring selling frenzy want to make sure their homes sell to families needing to settle in before the new school year. This summer saw a larger dip in "asking" price per square foot in the Phoenix Housing Market than in the last few years. However, sellers are becoming more aggressive with list prices during the fall and early winter season even though demand is dropping in the Phoenix Housing Market.

Note: These charts come from the Cromford Report of which we are paid subscribers. Our subscription gives us the rights to reproduce them.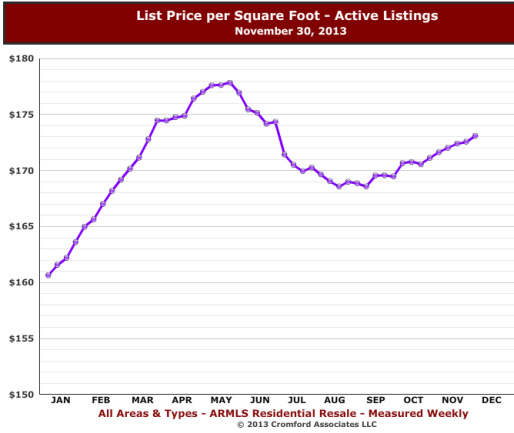 Investors – The percentage and number of investor purchases in the Phoenix Housing Market was at it's highest point in 3 years in June and July 2012. Increases in prices have caused a fairly steady decline in their purchases over the last 18 months.
Resale versus New – The resale graph, colored in red, speaks for itself. New home sales are indicated in blue and appear to be fairly steady. New home sales in the Phoenix Housing Market have varied between about 600-900 sales per month during 2013.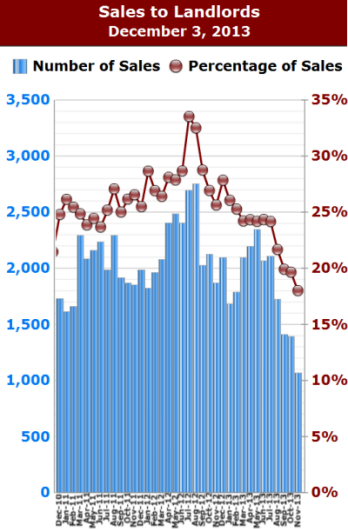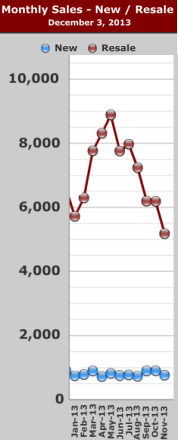 Cromford Market Index – This reliable standard of measurement indicates we are at the tip of a buyers market. The index is explained below.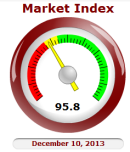 "Cromford Market Index™ is a value that provides a short term forecast for the balance of the market. It is derived from the trends in pending, active and sold listings compared with historical data over the previous four years. Values below 100 indicate a buyer's market, while values above 100 indicate a seller's market. A value of 100 indicates a balanced market."
Pricing Predictions – It is striking how accurately future pricing trends (1.5 to 2 months in advance) can be predicted by the current "pending" price per square foot in the Phoenix Housing Market. This chart from the Cromford Report indicates price per square foot for "pending sales" is on the rise. An important point to note is that the actual price per square foot number is not as important as the trend.
We're just beginning to see the tip of a downward spike in prices in the Phoenix Housing Market but can expect prices to rise in December and January. We anticipate prices to slowly rise to about $130 per square foot over the next 6 months if this trend continues. It seems pretty clear the days of rapid depreciation are over in Phoenix. Expect normal appreciation in the Phoenix Housing Market at the rate of 3% to 6% per year from this point forward unless the federal government does something crazy with fiscal policy. Then all bets are off.