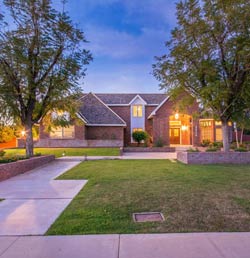 We present our 2015 Metro Phoenix Real Estate Review. This report was written by Metro Phoenix Homes Broker, Ron Wilczek, and my Realtor-wife (and love of my life), Kristina Keller Wilczek.
The Phoenix area MLS was revamped in 1999. Market data before the year 2000 is no longer available on the MLS to any realtor within the Metro Phoenix area. Therefore, this report will focus on the 16 years since the changes were implemented. We are continually producing data on the Phoenix Housing Market which can be found at these pages: Housing Market Categories and Phoenix Market Summary Reports.
It's clear that consumer confidence in the Phoenix Housing Market is at it's highest level in many years.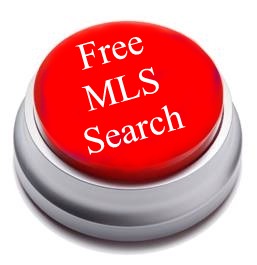 Let's begin with  a chronological chart starting with 2015 and going through the 16 years to 2000. We agree this is a lot of data that could take some time to digest. Therefore, we're going to break down this 2015 Metro Phoenix Real Estate Review in several different ways.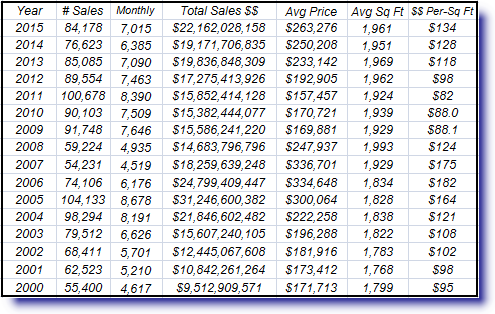 Phoenix Area Housing Sales
This chart shows a stack ranking of the past 16 years. It's no surprise that the most real estate was sold at the height of the real estate frenzy in 2005. It's also no surprise that 2011, which was the bottom of the housing market, had the second highest number of sales.
2015 weighs in at position #8, ahead of 2014 by a little over 600 sales per month. It trails 2013 by only 75 sales per month.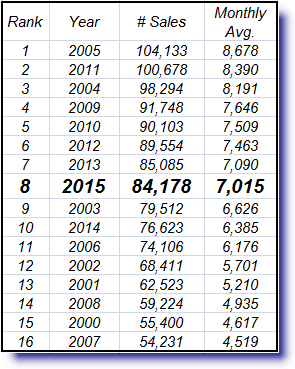 Total Phoenix Sales Volume
This chart shows how much money was spent on residential home sales in the Metro Phoenix area. It's clear consumer confidence has returned to the housing market. 2015 trails 2005 , the year with the most sales, and 2006, the year when price per square foot was highest.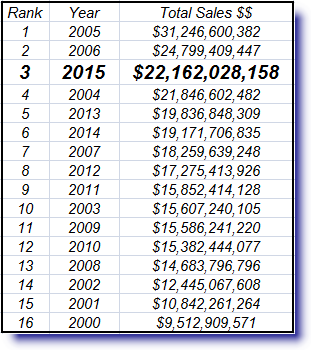 Phoenix Average Sales Price
This chart shows the average price of homes sold each year. Not many people really care about this number because price per square foot is more accurate. However, you might find it interesting that 2015 ranks fourth. What a difference between the prices of 2015 and 2006/2007. No wonder the market crashed.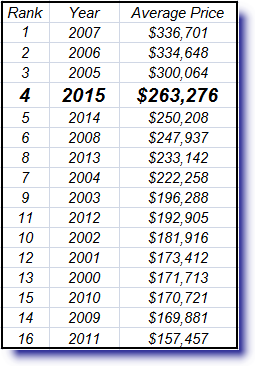 Price Per Square Foot
This statistic means quite a bit more than average sales price because it compares apples to apples. If you're not sure why that's true please click here: Sales Price Per Square Foot and scroll down the page. This is another graph that indicates why the market crashed after the housing boom. Home prices simply could not be sustained at those levels. Note how far prices dropped in 2011 ( position 16). Prices have rebounded $52 per square foot over the last four years as the foreclosure inventory has been depleted.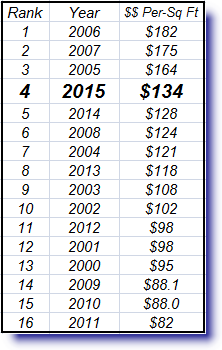 Phoenix Average Home Size
Do we really care about this statistic? Probably not. We looked at lots of statistical data for this 2015 Metro Phoenix Real Estate Review so we thought we'd throw this one in for your entertainment. As much as anything it probably shows that home builders have been producing larger homes in this millennium.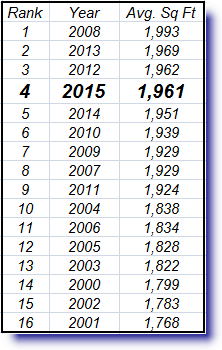 Days on Market
Another indicator of market health is what's known as "days on market," commonly known as DOM. Essentially this means the number of days it takes to sell a home. The numbers in this chart are "cumulative days on market (CDOM) " as opposed to "agent days on market."
CDOM became important around 2008 when the market really slowed down and short sales started to become prevalent. Many homeowners fired their realtors when their homes didn't sell, and the new realtor would take over the job. CDOM includes the time it took both realtors to sell the property.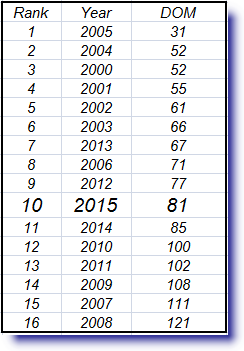 2015 Metro Phoenix Real Estate Review
Have you wondered what would've happened if the Phoenix market had never experienced the real estate boom and subsequent bottoming out? Well, we have. Keep in mind this is only speculation.
Appreciation from the years 2000-2003 averaged about 4%. If the "boom and bottom" had never happened, and annual appreciation continued at 4% until present day, the current price per square foot would be in the $170 range. Feel free to interpret that any way you like.  Did you like our 2015 Metro Phoenix Real Estate Review? Let us know.