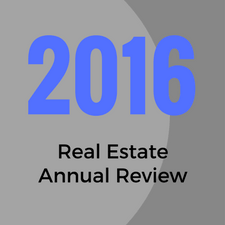 2016 Annual Real Estate Review
Another year has passed and 90,205 single-family homes were sold in Metro Phoenix during  2016. That ranks as the 5th highest sales year in the last 17 years. We used the last 17 years because in 2000 FlexMLS® restarted and modernized our MLS system. No data exists before the year 2000. Only the years of 2004, 2005, 2009, and 2011 had higher home sales, and '04 and '05 were during the housing boom. However, 2010  and 2012 weren't that far behind with 90,103 and 89,554 homes sales. Click here for our historical Phoenix Housing Tracker.
Housing sales in 2016 outpaced those in 2015 for every month except February and July. They outpaced every month of 2014. Visit our historical Monthly Home Sales.
Low interest rates, higher consumer confidence, a slightly improving economy, and market stability (low foreclosures) were among the top contributing factors.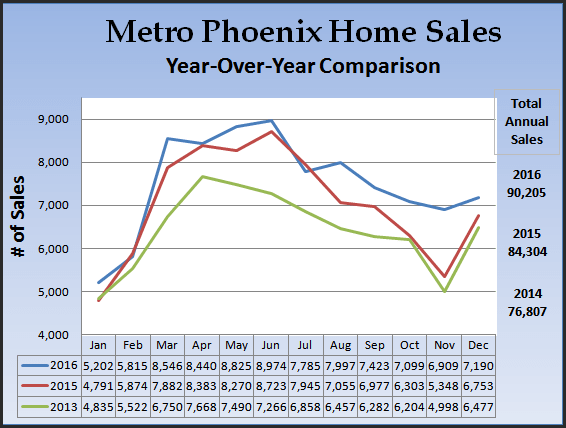 Housing Prices
Let's turn the focus of our 2016 Annual Real Estate Review to pricing. We will use price per square foot because it's the best "apples to apples" and "oranges to oranges" indicator available.  However, we will cite the Cromford Report® for:
a median price of $225,000
an average price of $270,767
When we take the size of each home into consideration (apples to apples) we see home values in 2016 increased  $7.70 per square foot over 2015 prices. The difference between 2015 and 2014 was $6.10 per square foot. The combined two-year increase is $13.80.
This 2016 Annual Real Estate Review provides a three year perspective. Click here for historical Price per Square Foot.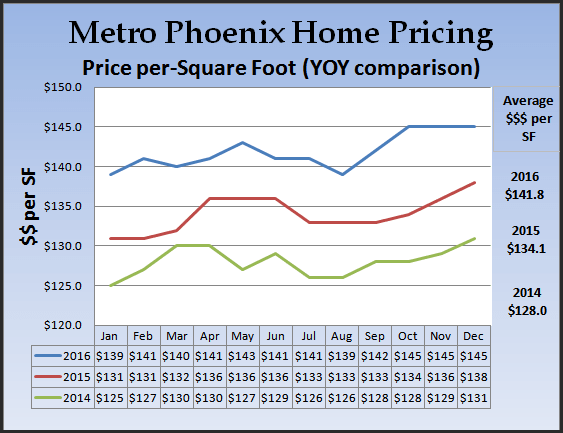 Homes on Market (Inventory)
"Supply and demand" determine whether we are in a "buyers" or "sellers" market. Housing sales were good in 2016, but not strong enough by themselves to create a seller's market. It's a lack of housing inventory that caused a seller's market in 2016 and 2015.  A normal level of Phoenix Area MLS inventory is about 26,000 homes.
Our 2016 Annual Real Estate Review reports an average of 20,957 homes for sale in the Phoenix MLS during 2016. That's 19.4% less than normal.
Home sellers have benefited greatly from the lack of inventory. Buyers have had less choices and sellers have been able to hold out for higher prices. January 2017 started with less than 20,000 listings in the Phoenix MLS. Have you been thinking about selling? This is a very good time.
Click here if you would like to sell your home quickly in Metro Phoenix.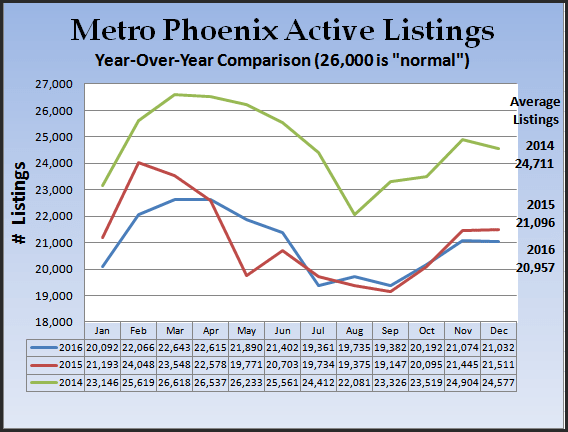 Foreclosures
According to CoreLogic, foreclosures (on a national basis) are approaching pre-crisis levels. For simplicity we define foreclosures as any kind of a "distressed" property. That includes bank owned properties, short sales, and auctions.
Our 2016 Annual Real Estate Review reports foreclosures (distressed sales) in Metro Phoenix averaged 4.28% of total sales in 2016. June had the lowest percentage at 3.5%. Compare this to the following table. Note the first number is the "year" and the "%" is the percentage of total sales during the year that were foreclosures (distressed sales):
2003 – 2.0%
2004 – 1.7%
2005 – 0.4%
2006 – 0.2%
2007 – 3.4%
2008 – 41.1%
2009 – 69.6%
2010 – 63.1%
2011 – 65.2%
2012 – 43.9%
2013 – 22.1%
2014 – 10.8%
2015 – 6.7%
2016 – 4.2%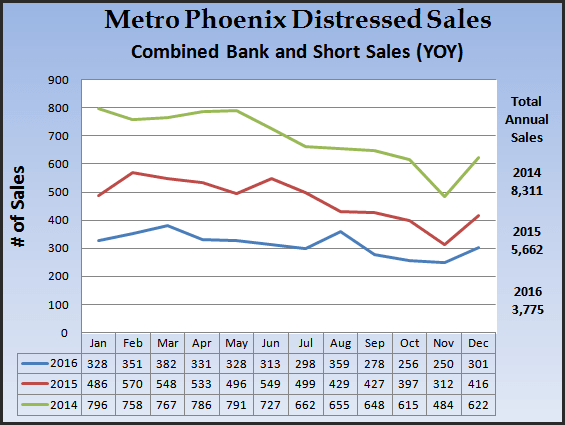 New Versus Resale
We have a friend, Norm Nicholls, who is the President of Fulton Homes. Norm recently told us that in 2016 Fulton Homes had their best sales year since 2006. The below chart does not cover the same 10-year period, but it does verify significant growth in new home sales over the last 3 years.
Click to see reasons people are buying brand new homes and to → SEARCH NEW HOMES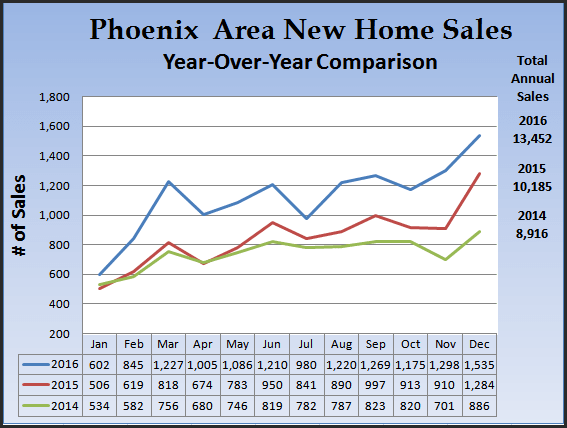 Mortgage Rates
During 2016 mortgage interest rates:
began at 4% in January
hit a low of 3.4% between the months of July-Sept
ended the year (began January) at 4.32%
Mortgage rates in the 3% range will be a thing of the past for home buyers in 2017. Various sources project rates to stay around 4.3% for most of the year and rise steadily to about 4.7% by the end of the year.
What does this mean to the consumer? Let's put it this way: every 1/10 percent increase in the mortgage rate increases a monthly payment by $.06 per $1,000 financed.  Therefore, a mortgage of $200,000 (expressed as "200" one thousands) would cost an additional $12 per month (200 X $0.06).  An increase of 5/10 would be the same as saying 5 x $0.06, or 200 X $0.30. 5/10 would cost the consumer $60 per month. Not too terrible, right?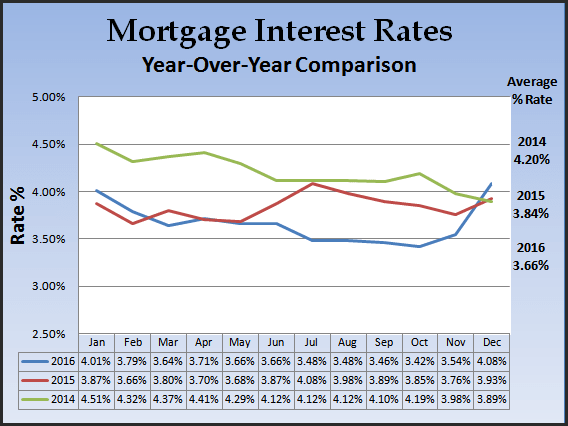 We'll wrap up this 2016 Annual Real Estate Review with a few topics of interest to investors:  cash financing and landlord purchases.
Cash Versus Financing
Cash purchases dropped in 2016, continuing a 5-year trend (figures are approximate):
20% in 2016
23% in 2015
25% in 2014
27% in 2013
36% in 2012
37% in 2011
Our local real estate market hit bottom in 2011. Many investors were using their cash to pick up outstanding property deals. Cash purchases have declined as prices have increased.
Landlord Purchases
Landlord purchases also continued to drop in 2016 (figures are approximate):
12% in 2016
13% in 2015
15% in 2014
20% in 2013
28% in 2012
26% in 2011
This decline is also due to the increase in property prices.
2016 Annual Real Estate Review
SELLERS
Home sellers had many reasons to be thankful in 2016 and in 2017. The disappearance of foreclosure-type properties over the last few years has completely stabilized the market and increased property values. It has also increased consumer confidence. Even homeowners who bought at the very top of the market can sell their homes and walk away with cash.
There's been a trend for more people to be satisfied with their current home. This has led to less housing inventory in the Phoenix MLS. This trend created our seller's market that began in early 2015. The best time ot sell is when there is less competition.
Increased home sales in both the resale and new home markets have added to the growth and stability of our local economy. What's your home worth?
BUYERS
Potential homebuyers reading our 2016 Annual Real Estate Review also have reason to be hopeful:
interest rates are still affordable
property values are still reasonable
properties in the Phoenix MLS are in better condition than they were a few years ago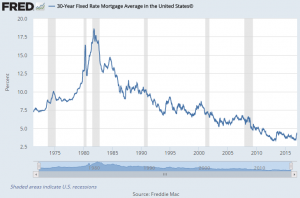 Yes, interest rates are still affordable. You may have missed 3.4% interest in 2016, but does anyone remember the 17% interest rates of the early '80s? Interest rates finally got under 10% in the 1990s. It wasn't until 2009 that interest rates broke the 6% barrier. Click on the interest rate chart to enlarge it.
Interest rates are great! However, buy as soon as you can and avoid another half percent increase.
Property values are still reasonable. Granted, you may have missed the bottom of the market in 2011 when properties were extremely affordable. But, don't forget when properties were unaffordable to many people at the top of the market.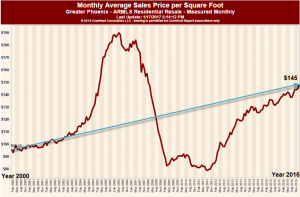 Consider this: annual appreciation was around 4% before the property boom of 2004 and 2005 when home prices skyrocketed. Have a look at this chart. Click to enlarge it. The chart projects a similar straight line appreciation from the early 2000's to the present day. As reported in this 2016 Annual Real Estate Review, current housing prices are where they would have been if the boom and crash never happened.
Properties are in much better shape than they were a few years ago. Distressed property sales were often in very poor shape. Pride in ownership has returned as home values have increased. Many homes on the market  today are in move-in ready condition.
Would you like more information? Call or text us at 602-300-0374  or use our contact form.
2016 Annual Real Estate Review