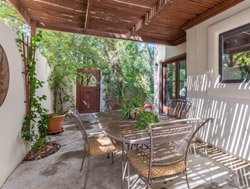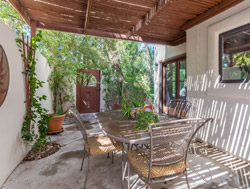 Truly amazing Townhome in Tempe AZ  located in the exclusive and gated community of The Cottonwoods. If you know Tempe, you know this is a rare opportunity to own in a unique and beautiful community. This is a secluded end unit with private, shaded patio.
Upgrades include new appliances, black-and-rose granite counters, spruce ceiling, lighted art niches, custom faux-finish in great room and dining area, hand-painted 19′ cottonwood tree mural on beehive fireplace, and more.
This Townhome in Tempe AZ has two master suites with large baths and walk-in closets; one has 2 walk-out balconies, the other a covered balcony. Roomy office/library in upstairs loft has floor-to-ceiling built-in bookshelves, balcony.
Easy walking/biking to ASU Research Park, Discovery Business Park; 15 minutes to Mill Avenue and Sky Harbor Airport. Great shopping and dining within 5-minute drive. Community has pool, spa, tennis court with basketball net, 'Tea House' for parties and meetings. Many paths, ponds, streams and waterfalls throughout.
6411 S RIVER DR 21 Tempe, AZ 85283
$339,000
2,386 square feet built in 1993 by Anozira
2 bedrooms, 2.5 bathrooms, 2 car garage
New appliances
Fireplace
2 master suites
Community with many paths, ponds, streams and waterfalls
Wonderful patio
Sample Pictures:
Phoenix Area Housing Market statistics and market conditions
What's Your Home Worth? Free Home Valuation
Here are some Tempe highlights as found in on the official Tempe website, Tempe.gov. Be part of the Tempe Community by buying this 3 bedroom 2 bathroom homes for sale in Tempe AZ.
Tempe is one of the 100 Best Communities for Young People, according to the America's Promise Alliance. The award honors outstanding efforts on behalf of young people by multiple sectors of communities.
In a recent poll by the O'Neil Associates/ASBA Arizona Economic Indicators Monitor, Tempe ranked as the Arizona city with the highest quality of life and the best downtown.
Tempe named North American City of the Future : Tempe and the Greater Phoenix Metropolitan Area were recognized as North American Cities of the Future for 2009/2010 by fDi Magazine (Foreign Direct Investment) this month. In the overall category of Major Cities of the Future, Phoenix ranked 10th in North America with other cities in the United States, Canada and Mexico. In the category of Small Cities of the Future, Tempe was fifth in North America for best human resources, meaning best potential employees,
following cities such as Pasadena and Minneapolis. Tempe also had the fifth largest number of post-secondary students in North America for cities of its size.
Tempe is the Most Walkable City in Arizona, according to Walkscore.com. Downtown Tempe's Mill Avenue District scored 98 out of 100 for one of the best places to take a healthy walk.