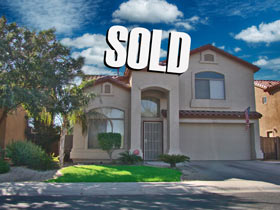 Are you a homeowner wondering about the best time to a sell a home in Phoenix and the surrounding communities? Wonder no more because we are about to show you. This post was updated January 16th, 2018.
The below chart indicates the average monthly sales over a 5 year period ending in 2017. It's clear from the chart that the least amount of homes are sold in January each year (and generally during the winter months). It's also clear sales escalate through the peak selling months of March through June. There is a distinct drop-off in sales by July. Sales gradually taper off the rest of the year with a bump in December. Click for a detailed home sales report.
Best Time to a Sell a Home in Phoenix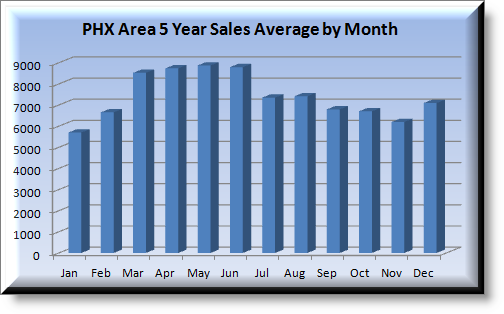 NOTE: this cycle is "always" the same regardless of the year. The actual sales numbers are the only change, as the seasonal cycles remain the same in Metro Phoenix.
Am I Ready?
What if you are not prepared to sell during the peak season? Does it really matter? Maybe and maybe not. Let us explain:
MAYBE: More buyers can mean more competition for your home. That could drive up the price or at least help you get your list price. Generally speaking, this is best time to a sell a home in Phoenix and surrounding areas.
MAYBE NOT: There is still an average of over 5,000 monthly home sales in the winter months. Homes still sell during the low season. A contributing factor to any decision is the current housing inventory. That means the "number of competing homes for sale" at the time you list your home. Let's express it this way: a lower demand (less buyers) in winter can be offset by a corresponding lower supply of competing homes.  Under this scenario there can still be competition for homes.
NOTE: housing inventory has been 20-30% lower than normal in the 24-month period from July 2015 – July 2017.
Consider this: the best time to a sell a home in Phoenix could be when it fits your lifestyle. Things like job transfers, opportunities, loss of income, or family issues don't wait for housing sales cycles.
Why Choose Us to Sell Your Home
Successfully selling homes since 1999
350+ sales
Professional staging advice
Amazing, professional home photography
Licensed broker
Discounts available
Best Time to a Sell a Home in Phoenix: Other Sources
Here's what some other sources say about the best time to sell and why:
Redfin: "If your goal is to sell relatively quickly, February "is historically the best month to list, with an average of 66% of homes listed then selling within 90 days"
Washington Post: "Seasonally more homes sell in spring and early summer than fall and winter. 35% of homes sell between May and July (the busiest three months)."
Time Magazine: "Buyers come out of the woodwork during the spring, and with tax refund checks in the bank, spring buyers more often pay full price. In fact, sales peak in the spring, helping to explain why about 60% of those who move do so in the summer."
Forbes: "Late spring and summer are usually thought of as the best times to put a home on the market because buyer demand builds steadily through spring. Sales then peak during the warmest months, when it's easiest for families to move without uprooting their children from school."
National Association of Realtors: "April through July outpace the balance of the year in sales…"
Hubzu: "It's been said that spring and early summer are the best times to sell your house. Competition among buyers can be fierce during these warm months and for whatever reason, the data has consistently shown that homes sell for more in spring and early summer."
So we have a consensus about the best time to sell a home in Phoenix.
First impressions count — big-time! Check out our home selling photography.
In reality, the best time to sell your home depends on your individual needs. However, a homeowner increases their odds of a quicker sale and higher sales price during the months of March through June. It is the best time to a sell a home in Phoenix.