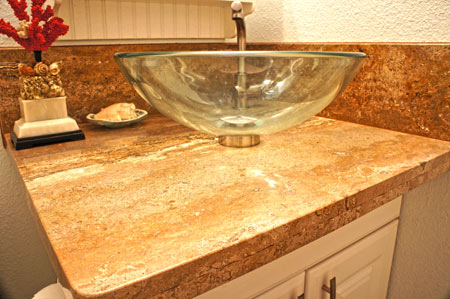 Is a home bathroom remodel for you? Here are some pictures and commentary from a recent home bathroom remodel that may inspire you and save you money. This house had 3 bathrooms with the same style of 4 inch, glazed ceramic tiles and decorative trim. The tiles were grouted and had long since become soiled and unattractive.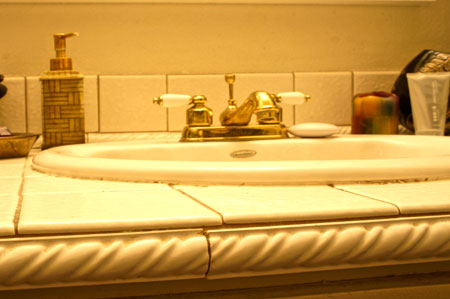 The method used in the hallway bathroom involved acid washing the tiles and grout and then using a special paint and sealer on them. This is a 2 day process, not without some rather strong odors, that is very affordable as a home bathroom remodel. Total cost was under $200 for a 6 foot counter top with dual sinks and did not require changing any cabinets, counter tops, sinks, or faucets. The surface comes in a variety of colors, is very durable (if done right), and carries a multi-year warranty. Contact us if you are interested for a referral in the Phoenix area.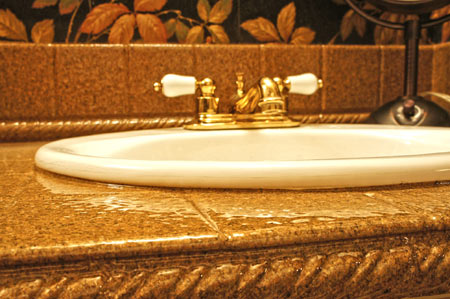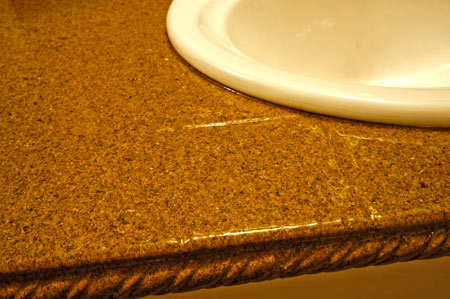 This next method was completed in the 3rd bathroom that had a smaller vanity. In this case the counter top, sink, and faucet  were removed. A $25 piece of granite was obtained from the "bone yard" of a local granite shop. A $15 piece of plywood was cut and used as the template. A local granite shop provided the custom cuts for the granite and back splashes to match the template for $50.
The total price for this home bathroom remodel to this point was $90. That could've been the total cost  for this home bathroom remodel if the same sink and fixtures had been reused. However, it was decided to replace them at an additional cost of $250. Total cost of this project was now $340, plus miscellaneous hardware. What an amazing difference from the original 4 inch glazed, ceramic tiles!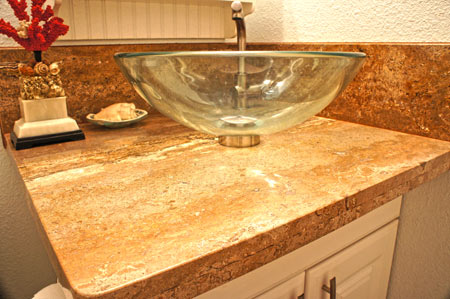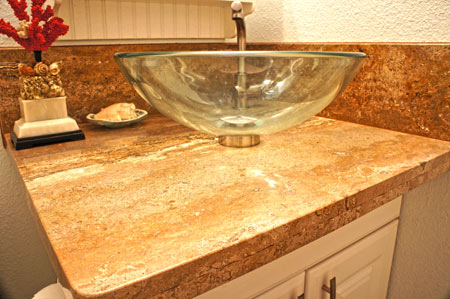 But you still don't feel like remodeling? Perhaps you'd rather have a look at all homes for sale in the greater Phoenix area with the best  search available to consumers.
The following article is used with permission (because I'm a paid subscriber) from Realty Times and was written by  columnist Phoebe Chongchua on Thursday, 30 January 2014.
[Begin Realty Times article]
Since bathrooms, bedrooms, and kitchens are among the rooms where people spend most of their time, the answer is, yes. But not every home bathroom remodel will help your home sell and it might not recoup the entire investment cost.
However, according to the Cost vs. Value report by Remodeling Magazine, the return on a home bathroom remodel investment averaged approximately 62 percent for the years from 2006 to 2012. Not bad! But it gets better.
In 2013, the numbers started to increase, inching up to about 72 percent already for 2014. A room addition is showing 60 percent return on investment.
With this in mind, before you jump into your home bathroom remodel, keep in mind that renovating a home is a big step to undertake. So, you should give it careful consideration. If you're planning to stay in your home for a while and then looking to sell it in the future, say maybe before you retire and potentially downsize, a remodel now can be worth it because you'll get to live in the home and enjoy the upgrades before you sell.
But what about if you're planning to sell in the very near future? Should you remodel? That depends. If there are several homes for sale in your neighborhood and little distinction between yours and the others listed, some custom upgrades and features may likely help sell your home faster than the others. The new amenities can help attract attention and also increase the value and, ultimately, the sales price.
When you upgrade and do even minor renovations, you're likely to attract buyers who are looking for a home to live in for a while. They tend to like when the home is move-in ready with upgrades. When a home isn't kept up, you often attract buyers who are real estate investors and are planning to flip the property. So because they often expect to have to put some cash into to fix it up, they will strive to get a lower price for the home because they have to clean up, repair, and renovate it in order to make a profit.
Home Bathroom Remodel
Whatever the case, whether doing a home bathroom remodel or remodeling your bedroom or kitchen because you plan to stay in the home for a while — or because you want to improve it and make it more attractive to buyers — don't cut corners. If you try to do the home bathroom remodel yourself, and it doesn't improve your home, you could make it much worse and it could become costly just to restore the renovation project.
Keep your remodel appealing to the masses. No purple rooms, no black shag carpet. Make the upgrades energy-efficient and eco-friendly and you're sure to interest many buyers. You don't have to make a room renovation so complicated as knocking down walls or tearing up tile. Sometimes simple renovations like a fresh coat of paint can go a long way – making it feel like a brand new room.
If you do plan to do a larger remodel, make sure you include good lighting, especially in the bathroom and kitchen projects. Updated appliances are also very attractive to buyers, even if you only change the faucet and the shower head. Also, a dual sink in a home with a single bathroom can be a buyer's dream. It's always good to have extra room in bathrooms and kitchens. Finally, before you do a home bathroom remodel, talk to your real estate agent and remodeling experts for advice.
[End of Realty Times article]
See us on YouTube.