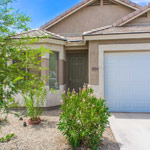 Homes for Sale in Maricopa
Looking for homes for Sale in Maricopa? Lots of love here. Great family home 50 yards from park with children's playground and covered picnic area.
Enjoy the 4 bedrooms, family and living rooms, vaulted ceilings, new stainless steel stove and microwave and new dishwasher. Practical floor plan has Jack and Jill bathroom and formal dining area in the living room.
Easy care large floor tiles in all halls, baths, kitchen, and laundry room. Nice touches include programmable front porch light and new fans in the family room, master bedroom, and "pink" bedroom.
Basic cable TV included in quarterly HOA assessment.
See the 32 picture home show: Maricopa home for sale 45763 W DIRK ST Maricopa
$127,900
1,926 square feet built in 2005
4 bedrooms
2 bathrooms
2 car garage
Sample Pictures:
Places to enjoy in Maricopa (from maricopa-az.gov)
The Ak-Chin Southern Dunes Golf Course is ranked #5 in Arizona according to Golf Magazine. A Troon property, it is located five minutes west of the heart of the community on SR 238. The Duke Golf Course pays homage to the legendary Western hero, John Wayne. Nestled in the heart of the Maricopa community, The Duke provides outstanding views and a warm atmosphere. thedukegolf.com
Pacana Park
Pacana Park is the City's first public park. Pacana Park spans more than 22 acres of land with a pristine 2.25 acre lake that is home to various fish including catfish and blue gills. Pacana Park is the City's first public park. Park amenities include:
Two lighted softball fields
Two tennis courts
Two basketball courts
A soccer field
A children's playground
Two ramadas
Numerous common areas
Copa Center
The City owns and operates a facility known as the Copa Center, located at 44585 W. Honeycutt Road. Various City classes and programs are regularly held there and open hours are provided for social and recreational activities. To reserve the Copa Center for your program or event, contact Community Services at (520) 316-6960.
Maricopa Public Library
The Maricopa Public Library is a branch of the Pinal County Library District. Located at 41600 W. Smith-Enke Road, Bldg. 10, the Maricopa Public Library is your one-stop source for information, entertainment and a connection to your community. The 8,085 square foot facility boasts a vast collection of books, videos, music CDs ad periodicals for people of all ages and interests. Additional services include:
Special programming for adults and young people
Computers with free Internet access
Remote access 24 hours a day to the Library's online catalog and resources
Meeting rooms