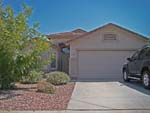 Just listed: a beautiful 3 bedroom home for sale in Peoria AZ with many extra touches including engineered wood floors throughout all common areas, tile floors in laundry and bathrooms, upgraded carpet padding in bedrooms, niche cutouts, upgraded doors, bay windows in master bedroom and kitchen.
Excellent Peoria Investment real estate!
Contact us: Homes for sale in Peoria and Phoenix Arizona for more information on this home.
See the 24 picture home show

: Homes for sale in Peoria at 8459 W Ross AVE 85382
$159,900
1,527 square feet built in 2002
3 bedrooms, 2 bathrooms, 2 car garage
Engineered Wood flooring in Living Room, Dining Room, Kitchen and Hallways
11′ x 9′ kitchen with an additional 11′ x 10′ transition to dining area
16′ x 15′ Master bedroom with walk-in closet
12′ x 10′ 2nd bedroom
11′ x 10′ 3nd bedroom
19′ x 19′ Great Room
Other Listings and Buy Foreclosed Homes Phoenix
Sample Pictures of Peoria Real Estate:
From GreatSchools.net:
Parkridge Elementary School
Public · K-8
9970 W. Beardsley Road
Peoria, AZ 85382
(623) 412-5400
Apache Elementary School
Public · 1-8
8633 W. John Cabot Road
Peoria, AZ 85382
(623) 412-4875
Desert Harbor Elementary School
Public · K-8
15585 N. 91st Avenue
Peoria, AZ 85382
(623) 486-6200
Frontier Elementary School
Public · K-8
21258 N. 81st Avenue
Peoria, AZ 85382
(623) 412-4900
Sunrise Mountain High School
Public · 9-12
21200 N 83rd Ave
Peoria, AZ 85382
(623) 487-5125
Coyote Hills Elementary School
Public · K-8
21180 North 87th Avenue
Peoria, AZ 85382
(623) 412-5225
Skyline West Prep School
Charter · 7-12
17667 N. 91st Ave.
Peoria, AZ 85382
(623) 875-3175
Skyline Junior High School
Charter · K-8
17667 N. 91st Avenue
Peoria, AZ 85382
(623) 875-3086
West-Mec – Sunrise Mountain High School
Public · 7-12
21200 N. 83rd Ave.
Peoria, AZ 85382
(623) 873-1860
Fletcher Heights Kindercare
Private · Preschool
20565 N. Fletcher Way
Peoria, AZ 85382
(623) 362-9569
Tutor Time CC Learning Center
Private · Preschool
8348 W Deer Valley Rd
Peoria, AZ 85382
(623) 825-9840
Desert Harbor-Dev Pre-School & DC
Private · Preschool
15585 N 91st Ave
Peoria, AZ 85382
(623) 412-6200
Peace Lutheran Pre-School
Private · Preschool
18265 N 89th Ave
Peoria, AZ 85382
(623) 972-1076
Sun Rise Family Child Care Center
Private · Preschool
21303 N 86th Dr
Peoria, AZ 85382
(623) 773-8498
Paprp Day Care-Vistancia
Private · Preschool
30009 N Sunrise Pt
Peoria, AZ 85382
(623) 773-7137
Primrose School of Fletcher Heights
Private · Preschool
8270 W Lake Pleasant Pkwy
Peoria, AZ 85382
(623) 825-3221
Community Preschool & Extended Day Care
Private · Preschool
8633 W John Cabot Rd
Peoria, AZ 85382
(623) 412-4875
Bright Beginnings Pre-School
Private · Preschool
8648 W Rose Garden Ln
Peoria, AZ 85382
(623) 566-6420
My Little Cottage Child Care
Private · Preschool
8931 W Sandra Ter
Peoria, AZ 85382
(623) 875-4894
Aprendemos Day Care
Private · Preschool
9462 W Frank Ave
Peoria, AZ 85382
(623) 362-4019
Black Mountain Science Academy Montessori
Private · PK-6
21505 N. 78th Avenue
Peoria, AZ 85382
(623) 825-1576
Carpe Diem E-Learning Community
Charter · 6-12
21170 N. 83rd Avenue
Peoria, AZ 85382
(928) 210-5777
Phoenix Children's Academy Private Preschool
Private · Preschool
18820 N 83rd Ave
Peoria, AZ 85382
(623) 561-0212