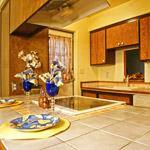 3 bedroom 2 bathroom home for sale listed in the MLS by Realtors Ron and Kristina Wilczek.
This 3 bedroom 2 bathroom property has high grade carpet, tile counter tops, exposed brick interior walls, and a sky light creating a very charming house. Exterior property features include mature landscaping and a workshop built from a Tuff Shed that doubles as a motorcycle garage. This wonderful home is 100 steps from Tempe's Ehrhardt Park.
We are proud to present this charming home that is in a fantastic Tempe location close to freeways, ASU and MCC, a city park, shopping centers, a hospital, the Orbit route to the light rail and more!
Let the pictures do the talking, then come for a look and send us a contract. NOTE: some exterior work and landscaping is still in progress.
$174,900
1,288 square feet built in 1971
3 bedrooms, 2 bathrooms, 1 car carport and 4 motorcycle garage
High grade carpet
Tile counter tops
Exposed brick interior walls
Sky light
Sample Pictures:
Phoenix Housing Tracker statistics and market conditions
Sell my house quickly with no equity in Phoenix
Here are some Tempe highlights as found in on the official Tempe website, Tempe.gov. Be part of the Tempe Community by buying this 3 bedroom 2 bathroom homes for sale in Tempe AZ.
Tempe is one of the 100 Best Communities for Young People, according to the America's Promise Alliance. The award honors outstanding efforts on behalf of young people by multiple sectors of communities.
In a recent poll by the O'Neil Associates/ASBA Arizona Economic Indicators Monitor, Tempe ranked as the Arizona city with the highest quality of life and the best downtown.
Tempe named North American City of the Future : Tempe and the Greater Phoenix Metropolitan Area were recognized as North American Cities of the Future for 2009/2010 by fDi Magazine (Foreign Direct Investment) this month. In the overall category of Major Cities of the Future, Phoenix ranked 10th in North America with other cities in the United States, Canada and Mexico. In the category of Small Cities of the Future, Tempe was fifth in North America for best human resources, meaning best potential employees,
following cities such as Pasadena and Minneapolis. Tempe also had the fifth largest number of post-secondary students in North America for cities of its size.
Tempe is the Most Walkable City in Arizona, according to Walkscore.com. Downtown Tempe's Mill Avenue District scored 98 out of 100 for one of the best places to take a healthy walk.