Here's our Housing Market Summary for the  greater PHX Metropolitan area for the month of December 2014. Happy New Year to all of our readers!
MLS Inventory
The biggest news in our Housing Market Summary is how inventory in the MLS dropped throughout December. The number of single family homes, townhomes, condominiums, and multi-family units for sale is down 13.8% (or 3,384 MLS listings) from the beginning of Dec 2014 – Jan. 2015. We wrote a more in-depth Housing Market Summary a few days ago titled Phoenix MLS Listings Drop discussing the possible effects.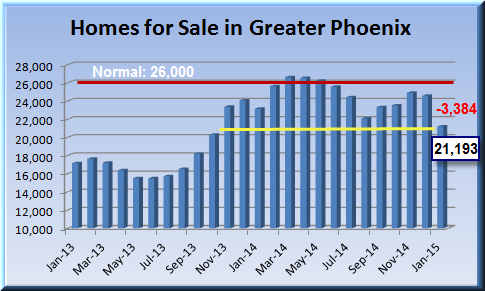 Home Sales
Lower overall home sales in 2014 slowed appreciation and fostered a buyers advantage.
December 2014 home sales in the Phoenix Real Estate Market are considerably higher than November. But that statement comes with a disclaimer:
there were 22 working days in December
there were 17 working days in November
there were 23 working days in October
Therefore it's reasonable to assume less housing sales in a month with less working days. Once we look at the number of closings per day (seen in the chart) we realize sales have been relatively consistent.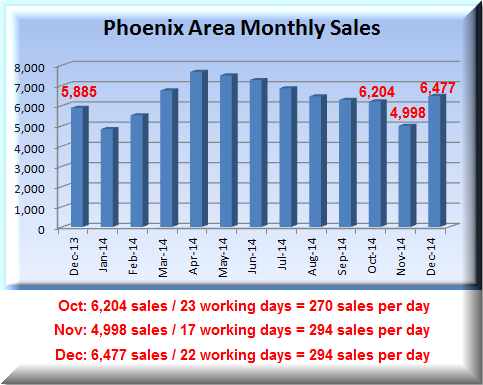 The good news is that year over year sales (YOY) are up 10% from Dec. 2013. October was the only other time that happened in 2014. Starting a new year on the tail end of increased sales is refreshing news for home sellers in the Phoenix Real Estate Market.
Cromford Market Index®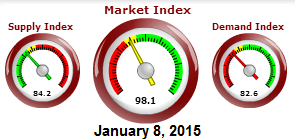 Even with lower home sales throughout 2014 housing is more balanced because of the decrease in inventory. This is the most balanced our real estate market has been since Dec. 2013 when we transitioned from a sellers to a buyers advantage.
An index of 100 indicates demand and supply are balanced. Over 110% is a good advantage for sellers and under 90% is a good advantage for buyers.
Home Pricing and Appreciation
Price per square foot rose to $131 in Dec. 2014. Much of the advance is due to continuing improvements with higher priced homes. Nonetheless this is still good news for the Phoenix area. I must say this is the most stable year of home pricing I can remember since I became a Realtor in 1999. No month in 2014 has deviated more than plus or minus $3 from the $128 average for calendar year 2014.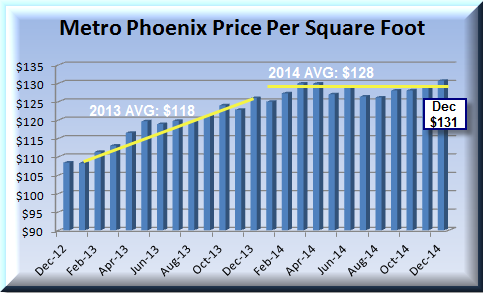 Housing Market Summary
On 12/8/2014 Fannie Mae announced its 97% LTV (loan-to-value) option for first-time homebuyers. This 3% down payment option will expand access to credit for qualified first-time homebuyers that may not have the resources for a larger down payment. These loans will meet Fannie Mae's usual eligibility requirements, including underwriting, income documentation and risk management standards. These loans will require private mortgage insurance.
A buyer purchasing a $150,000 home would keep an additional $750 in their pocket. A buyer who utilizes the maximum loan amount of $271,050 would keep $1,355 in their pockets at closing.
The FHA is also lowering its mortgage insurance premiums. President Barack Obama reiterated this plan announced Wednesday during his speech at Phoenix's Central High School. He said the FHA will begin cutting mortgage insurance in half this month. The typical homeowner is expected to save $900 a year through the program.
Are these 2 program changes really going to encourage more people to buy homes? Yes, but let's be realistic. It's not going to cause a real estate boom. In fact it probably won't make a significant difference. Everything helps.
That wraps up December 2014's housing market summary.