In this installment of our Metro Phoenix Home Sales report  we'll discuss why we're still in a home seller's market  — even though housing sales are slowing and prices are slightly decreasing.
The home sales cycle in 2015 has been much like any other year in our local housing market. Metro Phoenix home sales begin to takeoff in March, peak in June, and decline throughout the fall. We affectionately call this the "school shuffle" as parents try to complete moves before the new school year begins. The difference in 2015 has been the number of home sales. Metro Phoenix home sales between March-August have averaged 8,043 per month, up 15% from the same time period in 2014.
True to form, Metro Phoenix home sales peaked in June and have decreased over the last two months.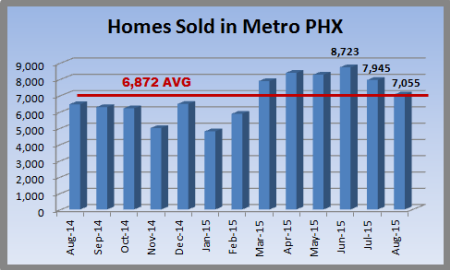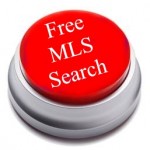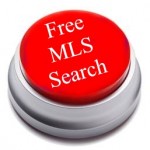 Decreasing Metro Phoenix home sales means less buyers looking for homes. It also means buyers have stopped bumping into each other at homes. Inevitably, multiple offers have become less common. This leads to price stabilization or, in our case, a decrease in housing prices. The below chart shows a steady increase in prices that peaked at $136 per square foot during April-June, then dropped to $133 over the last two months.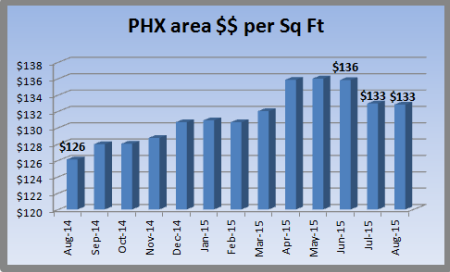 So, why are we still in a seller's housing market?  Lack of inventory is the simple answer. Housing inventory is 26% below normal levels. This leads to fewer acceptable choices for buyers.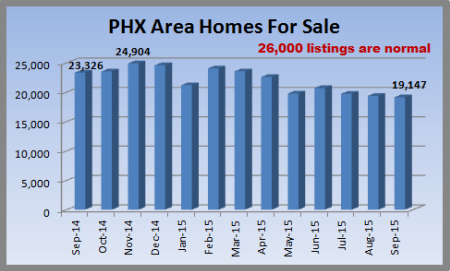 The Cromford Market Index® (CMI)  sums it up. It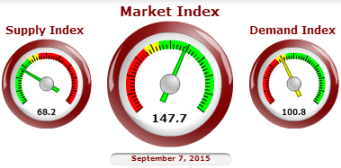 measures a combination of factors within the Phoenix real estate market that includes supply and demand. An index of 100 indicates a balanced market. Scores over 100 indicate a seller's market and scores under 100 indicate a buyers market.
Housing demand is normal. Housing supply is very low. This is still a good time for sellers to put their homes on the market.
Time to sale (also known as days on market), inevitably drops in a seller's market.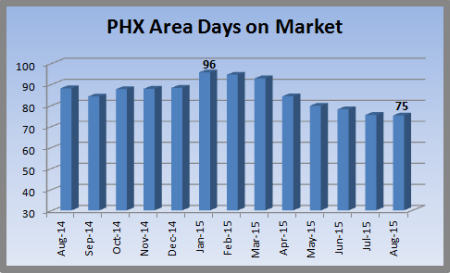 Metro Phoenix Home Sales Outlook
Don't expect foreclosure type sales, typically defined as bank owned properties (REO's) and short sales, to affect pricing anytime soon. They are back to normal levels.
The Black Knight Financial Services Mortgage Monitor report for July 2015 is out. Only 3.8% of all Arizona first mortgage loans are 30+ days late. 0.5% are in foreclosure while 3.3% are delinquent but not yet in foreclosure. There are only two states (Alaska & Colorado) with a lower percentage of homes in foreclosure.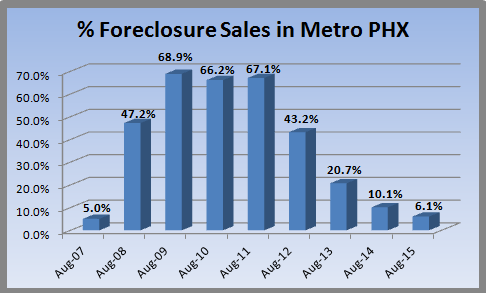 The up-and-down stock market got a lot of attention over the last thirty days while the real estate market has settled into nice and normal patterns.
According to Michael Orr of the Crawford report:
"There was some concern expressed that stock market volatility could affect the housing market, though there has been little evidence of any correlation between the two over the past 50 years. The only exception was in 2007 through 2008 when the housing market collapsed following the excessive money supply between 2003 and 2006. This brought the stock market to its knees. It does not tend to happen the other way round, especially when there is a chronic shortage of housing. All in all, our local housing market looks like it is in strong shape to take everything the world economy can throw at it."
Expect price per SF for Metro Phoenix home sales to finish between $133 – $134 in September. (RW)
Relocate here for more information on the Phoenix real estate market.