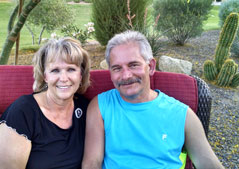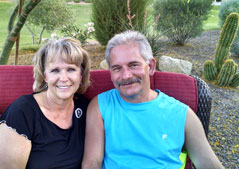 My husband and I were recently in the market for a new vacation-retirement home. We approached Ron at Metro Phoenix Homes Realty because I had some questions on the market in the Phoenix area.  We also contacted other realtors but Ron was the first to respond.
Being "out of state" buyers we needed to find Realtors that we could trust. We could not have been more pleased with our selection and the work that Ron and Kristina did for us. We were most impressed with the how fast he moved with our offer and counter-offer, which allowed us complete our purchase very quickly. We were even more impressed with how fast Ron responded to our calls and messaging.
We greatly appreciated Ron and Kristina's hard work and the dedication demonstrated while representing us. Without hesitation, we would highly recommend Ron and Kristina and the services provided by Metro Phoenix Homes Realty to everyone we know!
Deb and Brian Feider
Sheboygan, Wisconsin and Maricopa, Arizona
May 4, 2015
---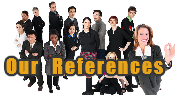 We've helped people like you buy and sell over 250 homes. Our 20 years of experience will help you avoid problems
What Province is Like
According to topretirements.com:
Province in Maricopa, near Phoenix, Arizona, was voted the best active adult community in 2006 by the National Association of Home Builders' 50+ Housing Council. The community encompasses approximately 50 acres of lakes, 125 acres of parks and greenbelts. The town center is home to a recreation center that features a fitness center, indoor pool, auditorium and a cyber cafe. Numerous amenities including tennis, basketball, and bocce ball. Preferential access at the Duke Golf Course adjoining the property. Home prices from high $100's to low $200's.
Best Metro Phoenix Homes for active adults
Interested in Homes for sale in Tempe