Welcome to the company website of Metro Phoenix Homes LLC. We are a full-service Real Estate Brokerage with expert Phoenix Area Realtors who have helped people buy and sell 350+ homes in the Valley of the Sun since 1999. Email or text to 602-300-0374 to learn how we can help with your real estate goals in 2018 and beyond.
Some of our other skills include Professional Interior Design/Staging and Housing Market Tracking. You're here for the latter, so let's get started with our:
Annual Metro Phoenix Housing Market Review
HOME SALES
There were 95,837 homes sold in 2017. That's 5,632 more transactions than 2016.  2017's sales were higher than 2016's in every month with the exception of September and December. Sales in those months were nearly identical, year-over-year.
Additionally, 2017 produced the 4th highest number of housing sales in the history of our area. The only years with higher sales numbers were:
2005 -104,133 home sales
2011 – 100,678 home sales
2004 – 98,294 home sales
2004 and 2005 were "boom" years and 2011 was the "bottom of the market." In other words, 2017 was the best "normal" year in our history for home buyers/sellers as well as Phoenix Area Realtors. See our monthly home sales report for additional details.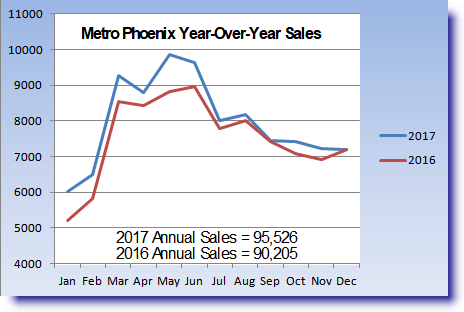 ACTIVE LISTINGS ON MLS
Our Metro Phoenix Housing Market Review reveals that the average number of listings in the Phoenix Area MLS was 10.2% lower in 2017. Listings were lower in every month than in their corresponding months of 2016. The 2nd chart is provided to show how this decrease has been occurring over a three-year period.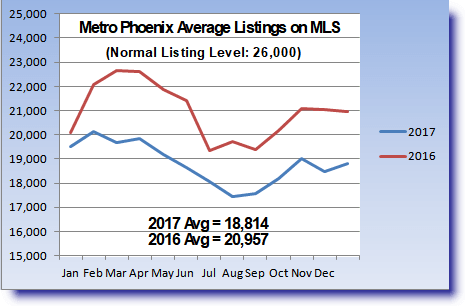 Price Per Square Foot
"Average" or "median" home prices are not the most accurate way to assess any real estate market. That's especially true when you're almost always comparing homes of different sizes. As Phoenix Area Realtors we suggest "price per square foot" as the best way to get an accurate evaluation.
Prices continue to rise in a seller's market, and that's exactly what we're reporting in our 2017 Metro Phoenix Housing Market Review. The graphic's caption indicates an $8 increase in the "average" yearly price per square foot. The December year-over-year increase from 2016 was an impressive $12.

Important Note About Rising Values
: You'll occasionally hear from a pessimist who thinks housing prices have risen so much in the past few years that we're headed for another housing crash. The accompanying "history" chart indicates why that's not likely to happen. In reality, the market is reaching its natural equilibrium.
We drew a straight line from January 2000 (when the price per square foot was $96) to December 2017. A quick calculation shows an annual appreciation of a relatively small 2.93% over the 18 year period. In other words, our current housing prices are not out of line with normal appreciation — especially since normal appreciation is usually 3 – 6%.
It's apparent that people who bought during the "boom" had the misfortune of bad timing and may have (probably) lost some money. However, those who bought during the crash had very good timing and made excellent gains in equity. Don't let the boom or crash deter you. Now is a good time to buy for the aforementioned reasons.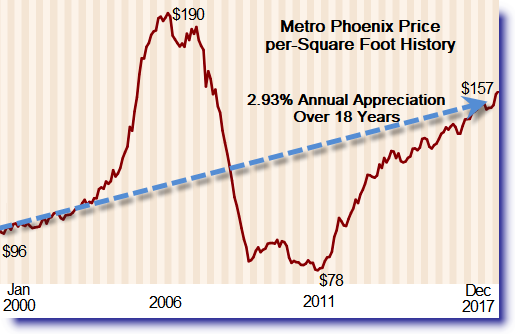 Report continues below video
FORECLOSURES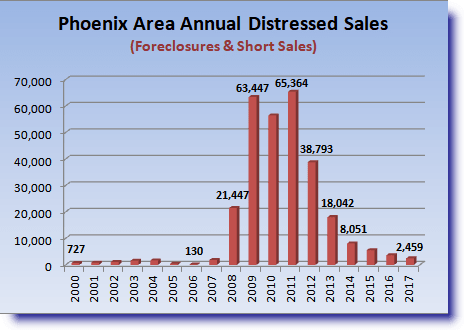 Any year-end-review discussion about real estate needs to look at distressed property trends. In our Metro Phoenix Housing Market Review we classify bank-owned properties and short sales as "foreclosures" or "distressed" property. Visit our
foreclosure property reports
for an accurate breakdown of both property types.
You'll note 2 things from the graph: a.) the bottom of the market in 2011 cleared out the excess inventory of distressed properties and b.) foreclosures have become a non-factor in the area.
We just called foreclosures a non-factor. You probably noticed more distressed sales in 2017 than before the 2004-2005 real estate boom. Keep in mind that approximately 350,000 homes have been built since 2000 (according to HUD). Additionally, "notice of defaults" (issued to homeowners 90-days behind on mortgage payments) are below 2000 levels.
New Home Sales

New Home Sales took a beating from 2009 through 2014. During that time the high rate of foreclosures and distressed property sales lowered home prices to the point where home builders could not successfully compete. You'll remember many went out of business during those years.
This Metro Phoenix Housing Market Review (and as well our 2015 and 2016 reviews) are happy to report the overall housing market has gotten back on track, and new home sales are rapidly increasing.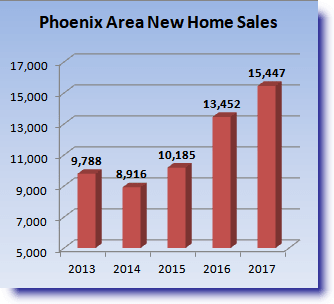 Mortgage Rates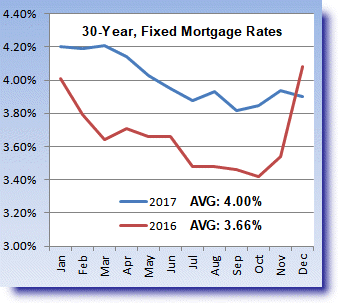 The Federal Reserve Bank of St. Louis provided the data for this graph. Average, annual mortgage rates were 0.34% higher throughout 2017. That roughly translates to $19 of additional, monthly mortgage payment for every $100,000 financed.
Rate predictions: We're professional realtors and not mortgage experts. The following statements in our Metro Phoenix Housing Market Review are based on the opinions of mortgage experts.
Mortgage rates will go up in 2018. Depending on who you choose to believe, rates will range between 4 and 4.25 percent in six months and 4.2 and 4.4 percent by this time next year. Others say rates will be in the higher 4's. Buy a home as soon as possible if lower mortgage rates are important to you.
This concludes our 2017 Metro Phoenix Housing Market Review.
Rely on trusted and proven realtors when it comes to protecting your family's assets.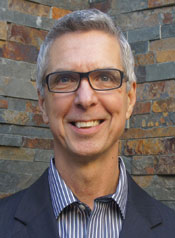 Ron Wilczek has been a Real Estate Agent since 1999 and the broker/owner of Metro Phoenix Homes since 2009. He has represented 350+ clients in resale, new home construction, investment homes, and multi-family investments. Clients include first-time home buyers through large investors. He has been an avid blogger since 2008 concentrating on the Phoenix Housing Market with his "Facts, no Fiction" style.