Welcome to the 1st month of the new sellers market.
Home buyers have held the advantage since December 2013. But it's now official. This edition of our housing report will show you how that has changed.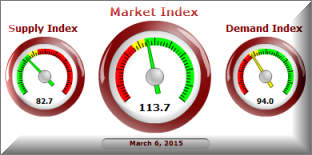 This is my 8th year of blogging on the Phoenix real estate market. The Cromford Report is the most unbiased and accurate source in our area for determining overall market balance. According to Michael Orr who publishes the report: The "Cromford Market Index™ is a value that provides a short term forecast for the balance of the market. It is derived from the trends in pending, active and sold listings compared with historical data over the previous four years. Values below 100 indicate a buyer's market, while values above 100 indicate a seller's market. A value of 100 indicates a balanced market."
We are currently in a seller's market because the demand for housing, while slightly below normal, is outpacing the current supply. The below chart shows housing demand has increased 6.5%  from last February. Short term housing demand is up 22.5% from the 4,791 sales in January 2015.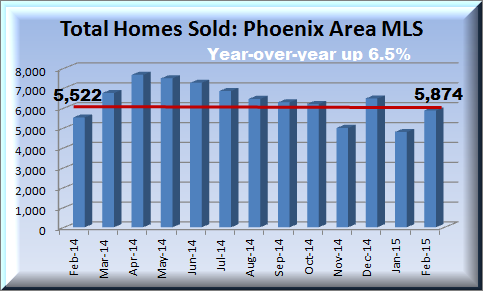 Housing supply is below normal levels. 26,000 listings are normal for the Phoenix area MLS, a metropolitan area with approximately 4,500,000 people. Year-over-year supply is down 11.5%. The number of listings is down 2% from our last housing report in February 2015. This all adds up to an imbalance in the Phoenix area housing market that favors home sellers. Last month we wrote the "Best Time to a Sell a Home in Phoenix Area Begins Now."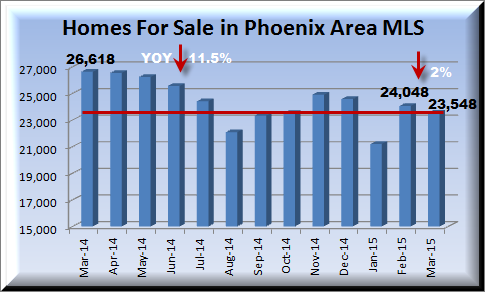 The below chart shows the cities within the Phoenix area that have the largest seller's advantage. Tempe, Glendale, Avondale, Mesa, and Chandler are particularly hot markets for sellers. Gilbert, Phoenix, Peoria, and Surprise are also very good.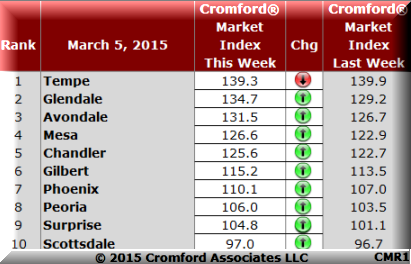 We have a personal witness to these facts. We put two of our listings in Glendale and Avondale under contract within 1 week. Keep in mind that while these charts represent cities, housing demand changes from neighborhood to neighborhood. Have you been waiting for a great time to sell your home?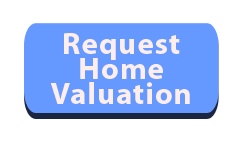 So far pricing hasn't changed dramatically. Our housing report shows price per square foot has stayed at $131 for the last 3 months. The average pricing over the last 12 months has been $128.50. No month has deviated more than $2.50 from the average. You can't get much more stable than that.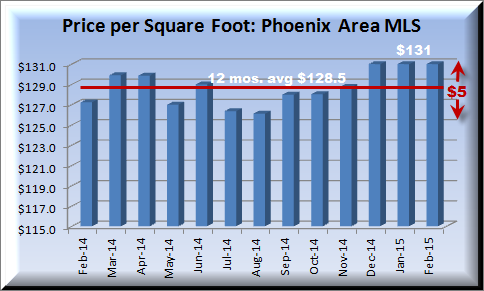 Another factor in the equation is days on market, also known as DOM. Like price per square foot, DOM has been relatively unaffected to date. A seller's market has a tendency to change that, and we should see days on market start to decrease.

Normal home sales far outpace REO sales and short sales. The 5,304 normal sales in February averaged 92 days on market while the overall average was 95 days.
Phoenix Housing Report Summary and Prediction
The home selling season has begun in Metro Phoenix. We are officially in a seller's market. How long we stay there depends on the delicate balance between supply and demand.
The encouraging news is that first-time homebuyers  have returned to the market. This is evidenced by increased sales in zip codes where median home values are under $200,000. In these areas demand has overtaken supply.
Home sales will continue to increase over the next few months, just like they do every year. The number of homes going under contract is up 10.5% from last month. Increased housing demand makes a great time to sell in price ranges under $800,000 because:
new listings priced below $100,000 are down 30%
new listings between $100,000 and $200,000 are down 16%
new listings between $200,000 and $400,000 are up only 1%
Price per square foot will go up and days on market will go down.
Thinking of selling? See the best team of realtors to sell your home.