Would you like to know how to sell a home?  The National Association of Realtors says 85% of buyers begin their search for Phoenix real estate online. Let me tell you how to crush the other real estate property listings in your area and sell your home faster than your competition.
Today's buyers are very sophisticated and know what they want. And they know how to get it on the Internet. With an Internet connection and a few keystrokes buyers are bombarded with hundreds of homes for sale.
The question is: how do you get buyers to desire your home? We believe the answer is: quality photography of your home and enough pictures for a potential buyer to assess the desirability of your property. Buyers would much rather narrow down 100 possibilities to 5 to 10 properties and save the time and stress driving all around the metropolitan Phoenix area.
It never ceases to amaze me how many real estate property listings have really bad photographs in the Phoenix MLS online. I'm sure you know what I'm talking about. It's as if many Phoenix, AZ real estate agents don't understand this very important connection to the buyer. Some realtors photograph themselves in mirrors, others will post extremely tiny or extremely distorted photos, and others will not even hold the camera straight. What can be just as bad is only having two or three photographs.
Don't take a chance when selling your home. We provide professional quality photography that will engage potential buyers and create an emotional attachment to your home. We can even recommend some professional home staging tips as Kristina spent 25 years as a professional interior designer.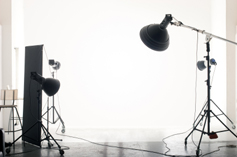 Lighting is the key to insuring  the photography of your home will capture the eyes of potential homes buyers. Room dimensions look larger, colors brighter, and images are more crisp. We take selling your home seriously and you should too. Let's work together to sell your home in the quickest time for the most amount of money.
Have a look at some of our professional quality real estate photos in this slideshow.
An example of our photography at work in a Scottsdale Luxury Home
Other homes seller tools
Assess market conditions with our Phoenix housing tracker