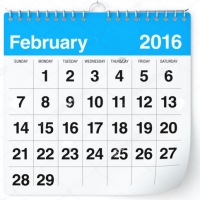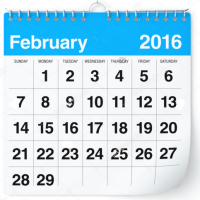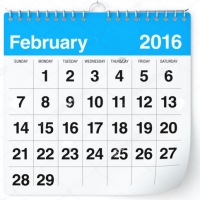 Welcome to the February 2016 edition of our Phoenix Area Housing Market Summary. This report is provided courtesy of Ron Wilczek, designated broker of Metro Phoenix Homes.  The numbers contained within this report are pulled directly from the Phoenix MLS. February had 29 calendar days and 20 working days.
Visit this link for additional Phoenix Housing Market Reports.
Home Sales
Let's start with the number of home sales in the Metro Phoenix area. Our Phoenix area housing market summary is reporting 5,815 sales in February, up almost 12% from January 2016. Sales are down about 1% from February 2015 but up 5.2% from February 2014.
This is the time of year "buying season" begins. We can usually expect a 10% increase in home sales from February to March.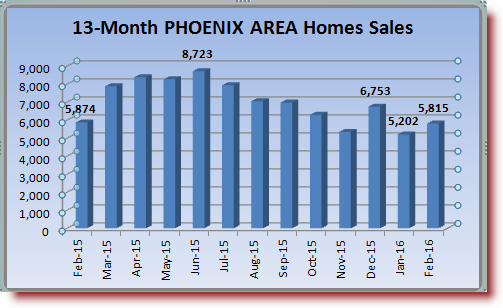 Homes on the Phoenix MLS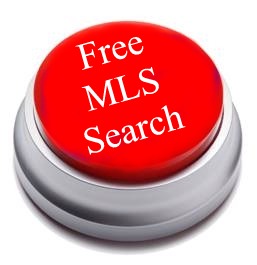 There were 22,643 properties for sale in the Phoenix MLS to begin March 2016. You can search them all by clicking on the red button.
Regular readers know 26,000 active listings are normal in the Phoenix real estate market. This is the highest number of homes on the market since the beginning of March 2015. Low inventory is a prime reason we are still in an overall seller's market in Metropolitan Phoenix.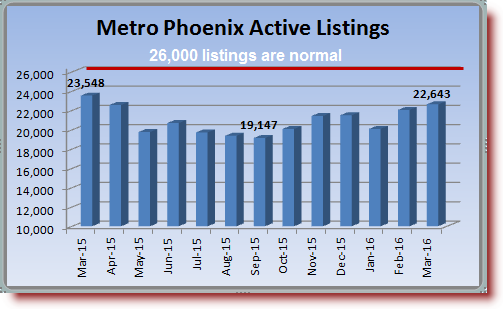 Phoenix Area Housing Market Summary Index
Here is a visual depiction of our Phoenix real estate market. The graphic comes from the Cromford Report, of which I am a paid subscriber. The combination of average housing demand and below average supply is what keeps us in a seller's market.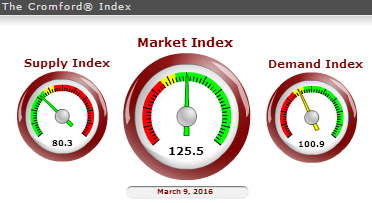 Home Pricing per Square Foot
The pricing numbers are not completely as they seem. The graph indicates an 8% appreciation from February 2015 to February 2016. While it is true we are experiencing a good level of appreciation, there is some distortion caused by changes in the sales mix between last year and this year.
Here is some information we extracted from the Cromford Report: Compared with 12 months ago there are 20% fewer listings and 10% fewer sales in the price range under $250,000. However, listings are up 15% and sales up 30% in sales over $500,000. In other words, increased sales of higher-end homes are somewhat responsible for the higher price per square foot.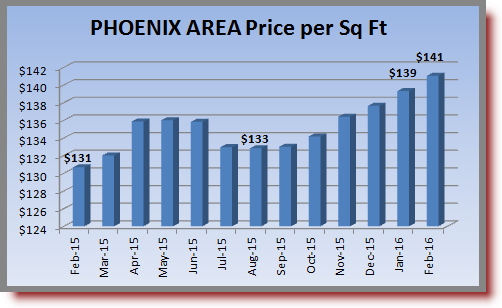 Days to Sale
This graph depicts the average days to complete a home sale in the Phoenix area. You can see gradual changes between 70 and 93 days on market. These averages include normal sales, bank owned homes, and short sales. Take note that there is a good number of homes that go under contract within a week. Multiple offers are common in some areas and price ranges.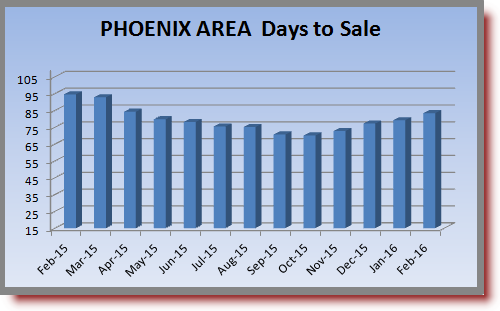 About New Homes

The Cromford Report "counted 845 new homes (single family & condo) that closed escrow within Maricopa County during February. This is an increase of 37% over February 2015 and the highest number for any February since 2008. The median sales price was $313,925 for new homes during February. There has not been any significant movement in medians for new homes since December 2013, when it was $319,898. It has bounced up and down randomly between $301,427 and $323,306."