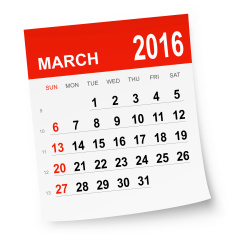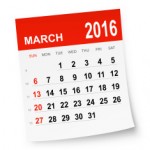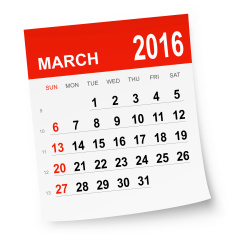 What's the biggest news reported in this month's Phoenix Area Market Conditions Report? The answer: the increase in number of sales from February to March.
You might be thinking  that's not so unusual because March had 2 more working days then February. While that's true, have a look at these numbers.
There was a net increase of 2,731 sales from February to March. That's the largest single jump in month to month home sales since March 2011 when the increase was 2,777. That's really saying something because home sales were at rock-bottom in March 2011, and homes were flying off the shelf, so to speak.
I've been doing a Phoenix Area Market Conditions Report since the summer of 2007. There has been no month with any bigger increase during that time.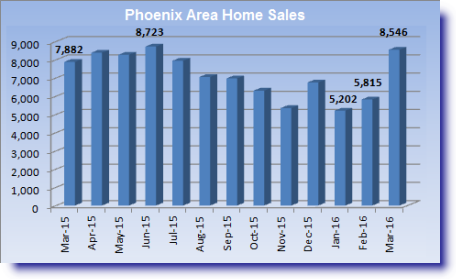 The jump in home sales is even more impressive when expressed as a percentage. March's increase was a whopping 47% (from 5,815 to 8,546). The increase in March 2011 was 38.6% (from 7,196 to 9,973).
Year over year sales were up by 664, or 8.4%. Our Phoenix area market conditions report indicates high consumer confidence in the housing sector.
Active MLS Listings
New listings were up in March but the number of residential homes sales effectively cancelled them out. Search the Phoenix MLS.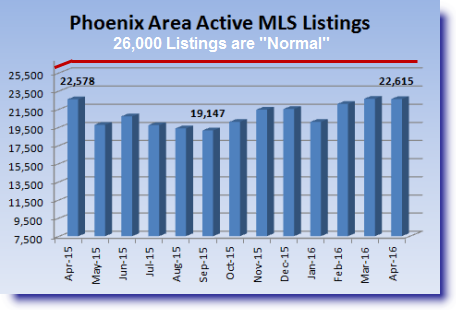 Listings in the Phoenix MLS have been low over the last year. Low housing inventory is responsible for keeping us in a seller's market during this time.
This is a fantastic time to sell a home for anyone who had been underwater with their mortgage because they bought between 2005 and 2009. It's now possible to break even or make a profit! We can sell your home!
Phoenix Area Market Conditions Report
Higher demand and lower inventory means we are still in a seller's market. The Cromford Report provides a visual depiction of our market, known as the Cromford Market Index.®  A real estate market near 100 is considered balanced. Over 100 favors sellers. Under 100 favors buyers.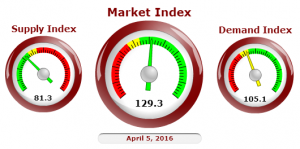 A further look at the numbers indicates the highest demand is in the price range from $175,000 up to $600,000. The lower end of the market has too little supply and the high end has too much. Midrange inventory and prices are stable which is generally a good sign for new home builders.
The high-end luxury market has excessive inventory but also had a good sales volume in March. The abundance of supply means plenty of choices for high-end luxury buyers. An abundance of competition in the luxury market means most sellers are settling for lower contract prices.
Price per Square Foot
Our Phoenix area market conditions report indicates price per square foot is up $8 year-over-year and down $1 from February. As a point of reference, the last time home prices were at this level was back in April of 2008. However, at that time prices were headed downward towards the market bottom of $77 per square foot in March of 2011.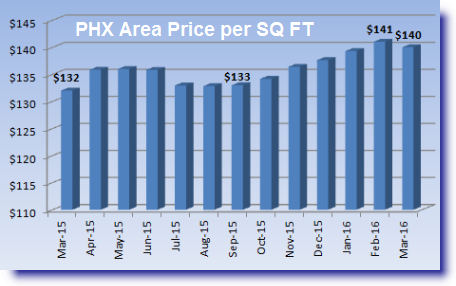 Let us help you with the next purchase or sale of a home. Read some of our Phoenix realtor recommendations.