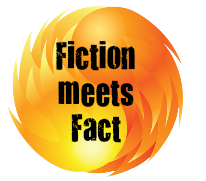 In last month's report we said the Phoenix Real Estate Market is normal.  Not many things have changed in the Phoenix housing market over the last 30 days. This month we'll give a more in-depth analysis surrounding the housing numbers.
100 is balanced, over 100 a seller's market, under 100 a buyers market.
Our analysis will begin with the Cromford Market Index.® You will remember a housing market index of 100 equals a completely balanced market where the supply and demand between home buyers and home sellers is in harmony. A number over 100 indicates a seller's market and a number under 100 indicates a buyers market. The current index of 91.7 gives the advantage to buyers. However, the number is not so far away from 100 that home sellers need to panic.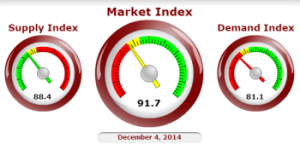 Let's look at supply (also known as housing inventory or MLS listings) and demand (also known as home sales) to understand how the Phoenix housing market became slanted towards buyers.
The below graph shows several things:
a "normal" housing inventory is 26,000 MLS listings
December 2014 began with 24,577 properties for sale
foreclosures (shown in red) are once again a very low percentage of all properties for sale
there was a shortage of properties for sale in 2013
housing inventory has returned to near normal in 2014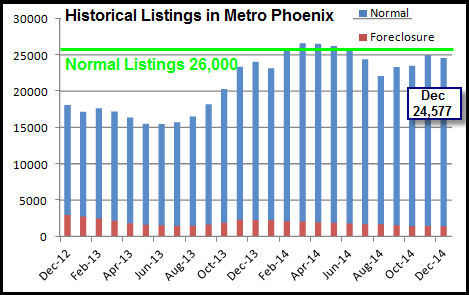 The next graph shows property sales in the Phoenix housing market during the same period.
Before you decide 4,998 home sales in November was horrible be aware: November contained only 17 working days because of Veterans Day and Thanksgiving. Additionally November had weekends at both the start and the end of the month.
17 working days in November contrasted to 23 working days in October
This is the lowest number of days we ever get in a calendar month. In contrast October had 23 working days, the highest we ever see. With 26% fewer days in which to close them, 20% fewer sales is not bad at all.
October had 6,204 sales with 23 working days, or

270 closings per day

November had 4,998 sales with 17 working days, or

294 closings per day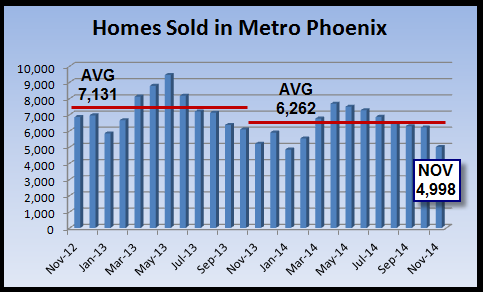 Combining these 2 graphs shows that 2013 had low inventory but higher housing demand. 2013 was a seller's market and prices increased in the Phoenix housing market (seen in below graph).
In contrast, 2014 had near-normal housing inventory but a lower demand for homes. Monthly demand was nearly 900 less homes, or roughly 12% fewer property sales. This is a major contributing factor to our current buyers market.
The next graph indicates the next logical conclusion. Home prices rose during 2013 and stabilized in 2014. Prices stabilized to such a degree they barely deviated from the $128 average throughout 2014.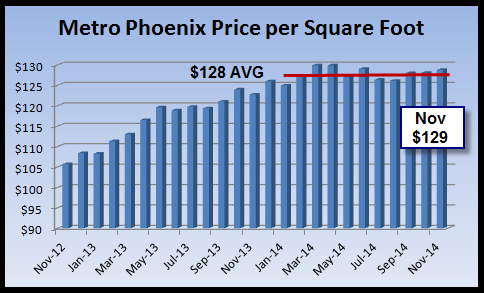 Phoenix Housing Market Trends
The next graph comes directly from the Cromford Report of which I am a paid subscriber. Click the image if you wish to enlarge it for a clearer view.
One result of a buyers market is less home sales and more canceled/expired property listings. Note that while HUD and REO properties generally sell in any market normal and short sales have less success.
Investors
July 2014 saw the lowest sales share for investors at 11.7%. November's sales share was 14.8% which is close to the long-term average. Most investor purchases were in town homes and condos where they took 28.2% of sales. Single family residences accounted for only 12.6% of all investor home sales.
Housing Appreciation
This next chart is also from the Cromford Report. It indicates how various styles of housing have appreciated over the last 12 months in the Phoenix housing market. The chart includes single-family detached homes, townhomes, apartments style (condo), manufactured/mobile homes, patio homes, and Gemini/twin homes (a hybrid of single family homes and townhomes made popular by the homebuilder Trend).
The chart indicates anyone who speculated on a manufactured/mobile home would've made the most appreciation in 2014. Condos were the worst investment. Single family homes have basically been flat.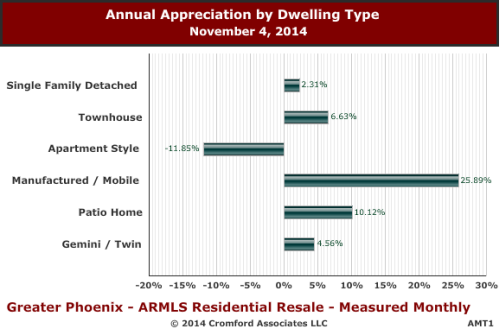 New Home Sales
New home sales averaged approximately 3,500 per month during the real estate boom years of 2004 through 2006. When the Phoenix housing market began to fall in 2007 sales dropped to 2,300 per month. In 2008 monthly sales of new homes dropped to about 1,300. Since that time sales have fluctuated between 400-900 per month.
Housing Wrap Up
Here's what to do with this information:
Homebuyers can be aggressive when they make an offer on a property. Don't be afraid to take a discount on a house you like, and ask the seller to pay a percentage of the purchase price towards your closing costs
Home sellers need to be 1.) patient, 2.) get your house in excellent condition (which could include making some upgrades), 3.) make sure your real estate agent pays for professional home photography because you only get one chance to make a 1st impression.