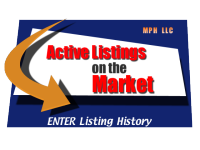 Phoenix MLS Listings have dropped. Considerably.
Our local real estate market has been nothing short of predictable during 2014. We've been in a buyer's market, demand has been down, inventory has been normal – slightly low, investor purchases have greatly diminished, and foreclosures have dried up. Not much in the way of exciting news in our housing market.
Until now. Home sellers pay attention.
… biggest drop since June 2011.
Phoenix MLS Listings have dropped 13.8% from the beginning of December to the beginning of January 2015. That's a drop of 3,384 listings from 24,577 listings in December to 21,193 listings to begin January 2015. It's the single biggest drop since June 2011.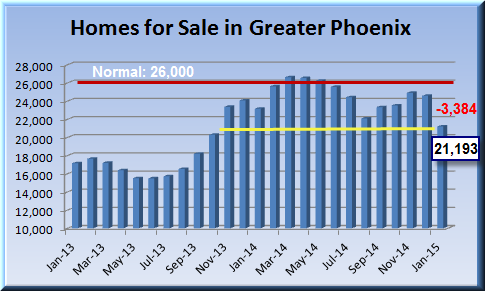 2013 was a seller's market. The demand for homes was much higher than the supply (2013 supply shown in chart). Consequently we saw a seller's market and dramatic rise in appreciation.
The normal level of listings in the Phoenix MLS is 26,000. Three quarters of 2014 were below that normal level. That, in itself,  would normally signal an advantage to sellers if it were not for the fact that demand for homes was the lowest since 2008. It was this lack of demand that kept us in a buyers market.
… normal level of listings is 26,000.
We are poised for change in our housing market. If listings stay this low, or even decrease, we could well be in for another seller's market. Even though buyer demand was low in 2014 it has recently shown signs of increasing.
The next few weeks will give us an indication of where we are heading. Historically, Phoenix MLS listings begin to pick up in mid-January through February in anticipation of the spring selling season. If that happens things may remain relatively stable and calm.
So the big question is what will happen to the supply of Phoenix MLS listings? If it arrives in bulk over the next 3 months then buyers will retain the advantage they enjoyed during 2014. If supply grows relatively slowly sellers will regain their advantage and prices could start to see some upward pressure building again.
Our prediction says we will begin to see the normal seasonal influx of listings, and perhaps we will get closer to a balanced market to begin 2015. For now, at least, we have something exciting to report for the Phoenix Real Estate Market.