The Metro Phoenix MLS logged its 1st drop in active listings since June of 2013. The recently broken string of 6 consecutive increases  in the Phoenix MLS began with 15,718 active listings in June 2013. At that time we were in a seller's market. After 6 months of increases the active listing count reached 24,063  in the Phoenix MLS. That's  just short of the 25,000 listings that was customary in the normal market we experienced in the late 1990's and early 2000's.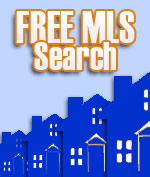 At the height of foreclosure crisis the Metro Phoenix MLS had just under 55,000 active listings and we were clearly in a buyer's market. For more details click this link: Phoenix MLS history.
The lack of demand in our area seems to be keeping our market in check because the supply of new listings in the Metro Phoenix MLS has been very low since November.
Phoenix MLS Trend
Another way to measure demand is what's called the "pending listings count." It's a ratio of homes that are under contract compared to the active listing count. It's expressed this way:
UCB's (under contracts accepting backups) + pendings / active listings
As of January 6 there are 2,322 UCB's and 4,977 pending listings for a total of 7,299 listings under contract. When you divide that number by the 23,728 active listings we get 30.7%. The Cromford Report continually checks this number. Michael Orr of the Cromford Report said "We regard anything below 30 as a cold market, as a seasonal measure that habitually hits bottom in the first week of January, this could be the lowest it gets for a while."
The below graph is taken from the Cromford Report, of which I am a paid subscriber. You can see the last time the ratio was this low in the Metro Phoenix MLS was in early 2009.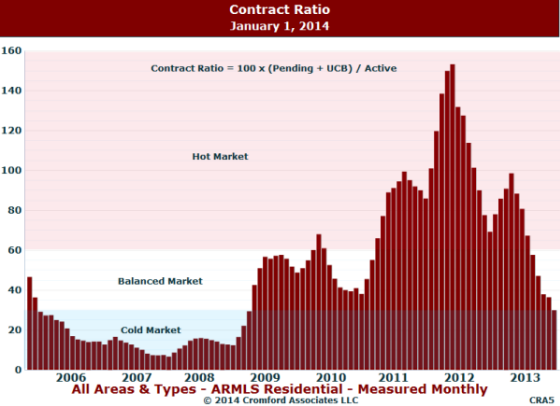 Want to search foreclosures to include short sales and bank owned homes? Click here.

More news from your Phoenix Real Estate Team