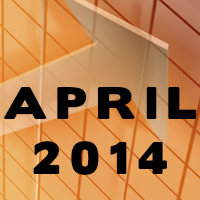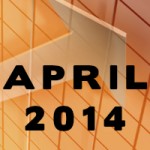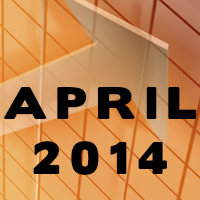 Welcome to our Phoenix real estate market report for the recently finished month of April 2014. April is the 5th month in which buyers are favored over sellers. This began in December 2013. The biggest question on most people's minds is: "what's happening to supply and demand?" Let's start with supply.
Watch our concise video summarizing the local Real Estate Market and read below for more details:
Inventory in the Phoenix Real Estate Market
Housing inventory has become very stable in the Phoenix MLS averaging 26,200 homes in the last 4 months.  As a historical perspective, listings were at a 7 year low in the summer of 2012 when they stayed under 13,000 for 3 consecutive months. This event triggered a seller's market in the Phoenix real estate market that lasted nearly 18 months. The sellers market ended in December 2013 when, after listings increased for 18 months, we approached our normal inventory level of about 25,000 listings. Inventory has become very stable over the last 4 months.
Foreclosure type listings in the Phoenix real estate market have continued to decrease to their current level of 7.2% of all active listings, down from the record high of 51.9% in January 2011. The below chart indicates that foreclosure listings, seen in red, have become a very small part of property listings in the Phoenix real estate market.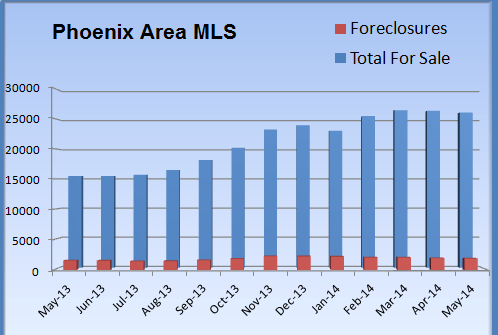 Housing Demand Expressed as Sales
The below chart shows that home sales have climbed for 3 consecutive months. Sales in January 2014 were 4,835 and sales in April 2014 were 7,668. This is no surprise as demand always increases during this time of year. The hottest selling season is spring through mid summer. However, the hot topic in the Phoenix real estate market seems to be the lower "year-over-year" demand for homes.
Take note that the blue bars in the front represent the current 12 month period from May 2013 through April 2014. The red bars in the back indicate home sales in the previous 12 months of May 2012 through April 2013. It's clear that housing demand is down in the Phoenix real estate market. The overall decrease in "year over year" demand for homes during these time periods is just about 10%.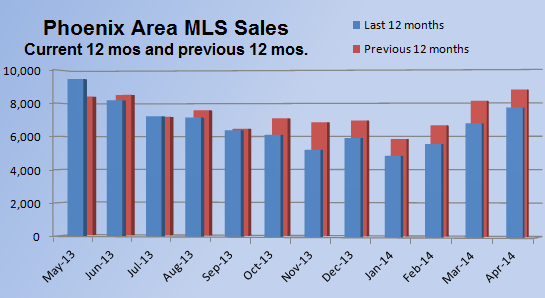 We have discussed potential reasons for lower housing demand over our last 3 monthly installments:
Michael Orr of the Cromford Report recently suggested another reason: the lack of household formation in the Phoenix real estate market. Mike said household formation has been dropping for a long time due to unemployment, falling birthrates, lower migration to the state, and a greater number of people who are sharing homes (especially among millennials).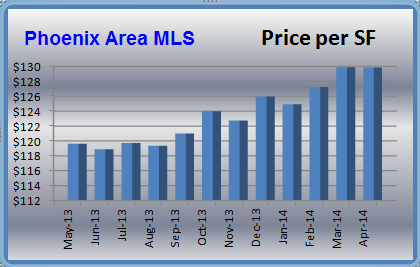 Foreclosure Sales
The below chart shows a seven-year history of foreclosure-type sales (bank owned and short sales)in the Phoenix real estate market. Normal sales are indicated on the bar chart in blue and foreclosure sales are indicated in red.
We can confidently state the foreclosure storm in the Phoenix real estate market is now finished. The last question is how low the numbers can go in the future given the improved delinquency rates we have seen over the past year.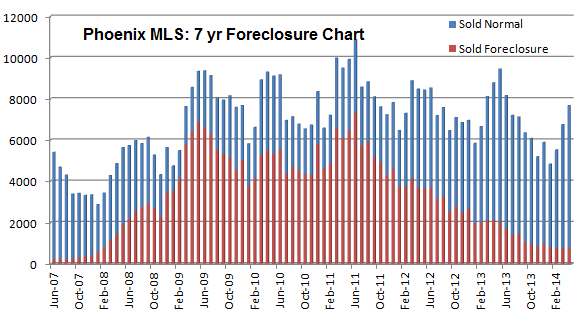 Foreclosure sales represented 10.3% of all sales in the Phoenix real estate market in April 2014. Contrast that to the record high of 75.9% in Mar 2009. Bank owned home sales led short sales in April by 62.6% to 37.4%.
More information from the Cromford Report: "For Trustee Deeds filed in Maricopa County we saw 453, which is a 20% drop from March and down 53% compared with 968 in April last year. We are back to the level of February 2007 and at similar levels to those seen in 2003."
Days on Market (DOM) in the Phoenix Real Estate Market
At this time last year DOM was in the mid-60 day range and it stayed their until right before the buyer's market started. It's now 20 days higher and in the mid-80's.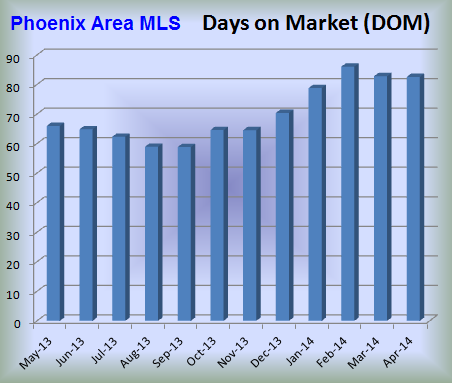 Outlook
Total ARMLS sales have declined 12% from a year ago and 10% when you're comparing consecutive 12 month periods. However, additional information from Mike Orr indicates that if you look exclusively at "normal" MLS sales in Greater Phoenix (ignoring the REOs, short sales, pre-foreclosures and HUD listings) then we can actually see some constructive growth. April normal sales were up 3.6% over April 2013 and the annual sales rate was up 20.8%. There is a reasonably healthy resale market in the Phoenix real estate market, hiding in plain sight inside the overall picture.
Consumers are doing their part in buying homes. The rest may be up to the mortgage industry. Many first-time home buyers have credit scores in the 600-700 range which has not been sufficient to qualify for a loan.
In previous years consumers could qualify for home loans with a credit score of 620. Are lenders willing to lower credit requirements? According to the Mortgage Bankers Association home loan applications are at their lowest level since 2000. Lowering the credit threshold could go a long way in improving housing demand and improving the mortgage business.
So sellers in the Phoenix Real Estate Market shouldn't get overly discouraged about the buyer's market. A clean house in good shape portrayed by professional photography can still sell quickly for a good price. Ask us about our marketing plan and professional photography (seen here: Real Estate Photography).