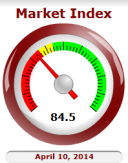 The Phoenix Real Estate Market selling season is in full swing this time of year. However, this year the supply of homes in the MLS is higher and buying demand is lower. Welcome to month #4 of buyers being favored over sellers. The Cromford Index is at 84.5.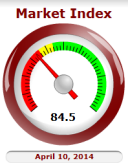 "Cromford Index™ is a value that provides a short term forecast for the balance of the market. It is derived from the trends in pending, active and sold listings compared with historical data over the previous four years in the Phoenix Real Estate Market. Values below 100 indicate a buyer's market, while values above 100 indicate a seller's market. A value of 100 indicates a balanced market."
Active Phoenix MLS Listings and Buyer Demand
Higher homes sales and more listing cancellations in March caused listings to drop very slightly from last month. That being said the current 26,537 listings in the Phoenix Real Estate Market is a normal level of homes for the Phoenix MLS.
Search all those homes here:

Take note that foreclosure type listings (bank owned and short sales) accounted for an all time high of 52% of total Phoenix MLS listings in January of 2011. They have subsided ever since and now account for only 7.3% of all listings in the Phoenix Real Estate Market.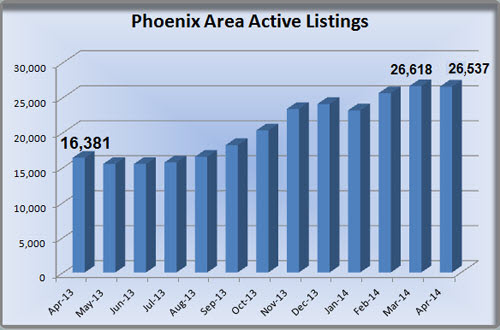 Buyer demand is up 1,228 sales from February 2014 but down 1,361 sales from March 2013 when 8,111 homes were sold. These statistics favor buyers and will keep sellers from being too aggressive as they compete for the smaller pool of prospective home buyers. Sellers in the Phoenix Real Estate Market need to be aware of this and insure their homes are clean and free of deferred maintenance.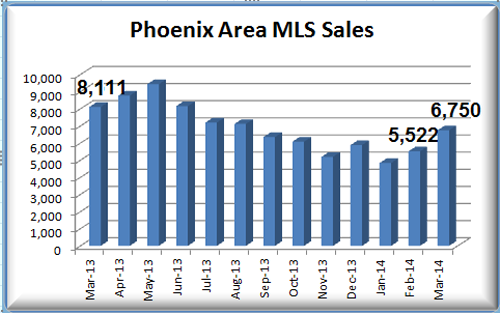 Sales in the Phoenix Real Estate Market
Normal sales (not foreclosure type sales) accounted for 88.6% of all sales in March 2014 . This is the highest percentage of normal sales in the Phoenix MLS since Nov 2007. It's also a major factor in the steady increases in home values over the last 2-3 years.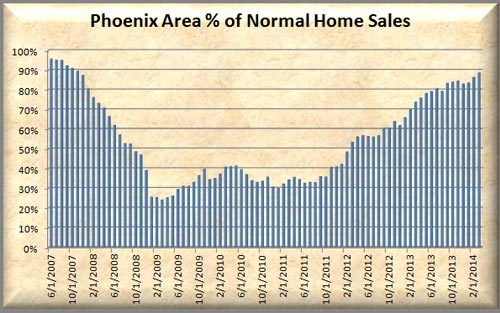 We thought you might also like the below graph. It shows how the sale of homes under $100,000 has dropped considerably, increasing prices of homes as foreclosures have faded away.
At the bottom of the Phoenix Real Estate Market in 2011 an average of 45% of all homes sales were under $100,000.  80% of those 45% were foreclosure type homes. In March 2014 12% of home sales were under $100,000. Only 25% of the 12% were foreclosure type homes. Note that the red bars denote the sales under $100,000.
Now let's examine the price per square foot in the Phoenix Real Estate Market. The chart show how prices were out of hand after the real estate boom, were driven ridiculously low after the foreclosure crisis, and have subsequently risen as foreclosures have gone away. We don't believe prices will ever again rise to the the boom days. Read here if you're interested in some speculation about home pricing if the real estate boom and crash never happened.
Homes prices stayed between $123 – $127 per square foot in the 5 months previous to March 2014.  In March 2014 price per square foot increased to $130. Why would prices continue to increase when we are in a buyer's market? Mike Orr of the Cromford Report says this:
"…average and median sales prices are moving higher as the volume mix shifts towards higher end homes and away from entry level homes. This doesn't mean that home values are increasing. These are not moving much. It is just that higher end homes are a higher percentage of completed sales (driving the average up) and the cheapest home sales are getting scarcer (driving the median up)."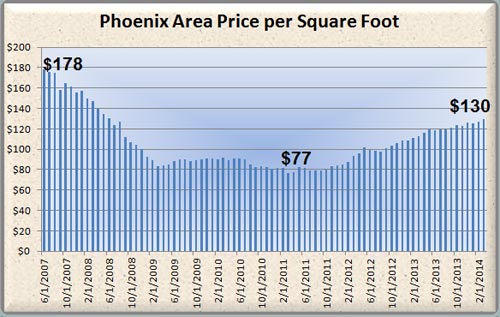 So sellers in the Phoenix Real Estate Market shouldn't get overly encouraged about the price increase per square foot. However, a clean house in good shape portrayed by professional photography can still sell quickly for a good price. Ask us about our marketing plan and professional photography (seen here: Real Estate Photography).