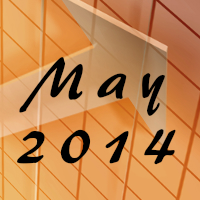 Phoenix MLS Home Sales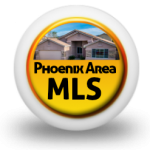 Realtors in the Phoenix real estate market reported 7,490 home sales in May 2014. That's 178 less than April. Year-over-year sales are down considerably from 9,444 home sales in May 2013. Additionally, home sales are the lowest since 2008. Realtors normally report spring and early summer as a time of year when home sales are seasonally escalating. Home buying demand is down in the Phoenix real estate market. Looks like we'll be in a home buyer's market for a while. For a complete look at sales trends go here: PHOENIX REAL ESTATE MARKET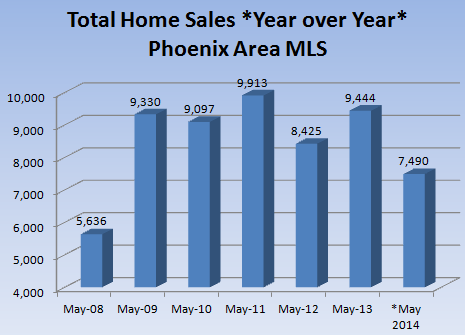 Price per square foot declined after 2 months at $130. The chart provides a 12 month perspective.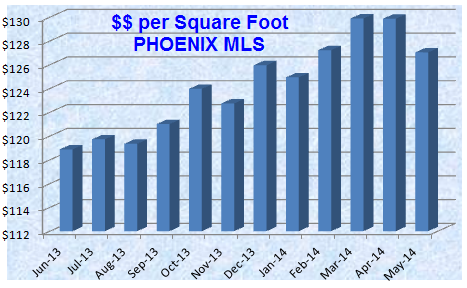 NOTE: Michael Orr of the Cromford Report noted "…that the disappearance of distressed (foreclosure) sales almost accounts for the entire drop in year to date Phoenix MLS sales between 2013 and 2014."
As professional Realtors we are not suggesting that's the reason for the lower home buyer demand, but as Realtors who watch numbers it's an interesting correlation.
Over the last few months we have commented on the reasons for lower housing demand to include:
Investor purchases have gone way down
Concerns about the federal government's fiscal policies
Job creation is low
Baby boomers replaced as #1 home buyers by Millennials who have high college debt
Lower numbers of families being created
Phoenix MLS Listings and Inventory
Phoenix MLS listings have dropped for 3 consecutive months. The drop in property listings has not been dramatic. The net decrease in active listings over 3 months was 1,057 in the Phoenix MLS. Homeowners are not rushing to Realtors to put their homes on the Phoenix real estate market, probably because of lower home buyer demand.
Let's contrast this drop in active property listings with the rapid increase we had not that long ago. There were 15,718 active listings in the Phoenix MLS to begin July 2013. Listings by Realtors increased by 10,902 to a recent high of 26,618 to begin March 2014. You probably remember that's what turned our home seller's market into our home buyer's market. The home buyers market officially began in December 2013.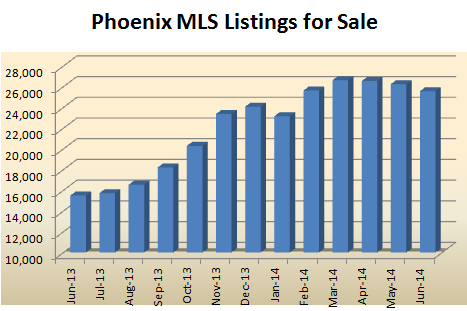 Phoenix Foreclosures
Phoenix foreclosures have continued to drop for 41 consecutive months. Realtors use the term Phoenix foreclosures to describe bank owned properties and short sales. In October 2010 Phoenix foreclosures were at an all-time high of 20,097, or 51.1% of all property listings in the Phoenix MLS. Contrast that with 1,756 to begin June 2014, which is 6.9% of all listings in the Phoenix MLS.
Let's talk about sales of Phoenix foreclosures while we're on the topic. Phoenix foreclosures represented 10.6% of all sales in the Phoenix MLS with 791 transactions . The breakout was 522 bank owned properties and 269 short sales. For a little perspective consider the sale of Phoenix foreclosures from January through June 2009: a 6 month average of 5,500 foreclosure-type sales, or 73% of all sales. We've come a long way back.
Time to Sale in the Phoenix Real Estate Market
Days on Market (DOM) is a term realtors typically used to describe how long it takes to sell a property. 83 days has been the overall average for the last 3 months. That's up by 2.5 weeks from one year ago. The chart shows the difference between normal, REO (bank owned), and short sales.