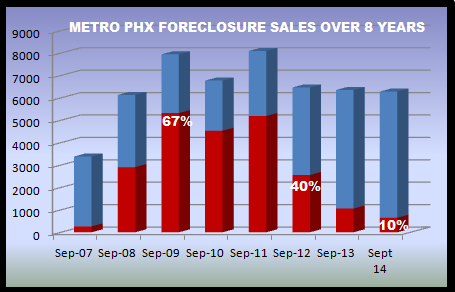 The Phoenix Real Estate Market has some good news and some bad news.
The good news for for both home buyers and home sellers: home sales to owner occupants are up 6% from one year ago. This means more people are comfortable with the state of housing and are making a commitment to purchase a home versus renting a place to live.
The bad news is for home sellers: overall sales remain at a six-year low, due mostly to a 36% decrease in investor sales. I know, some of you are thinking "less investors sales" are better for home values in the Phoenix real estate market. While that's true it also means sellers have to compete for buyers. More on that below under the heading "Investors in the Phoenix Real Estate Market."
New listings in the Phoenix real estate market have remained low. In September 2014 there were 10% less new listings than last year and 8% less than 2012. Weakness in demand (less home sales) is a contributing factor to the small increase we had in Phoenix MLS listings .
October 2014 began with 23,519 active listings in the Phoenix real estate market, or just a few hundred more than September. The red line imposed on the below graph indicates the normal level of active listings, which is about 26,000 homes for sale, in the Phoenix MLS.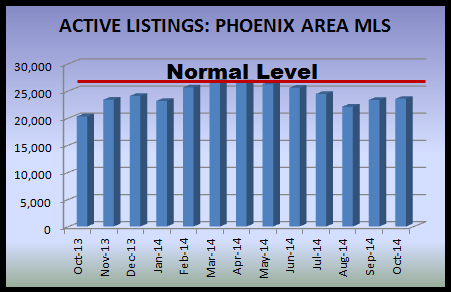 The below chart indicates 6,282 homes sales for September 2014 in the Phoenix real estate market. Sales historically decline as we approach the end of the year, so it's not unusual for September's home sales to be less than August's home sales.
We superimposed the red line on the chart below which indicates an average of 6,282 home sales per month for all of 2014. This is the lowest level since 2008.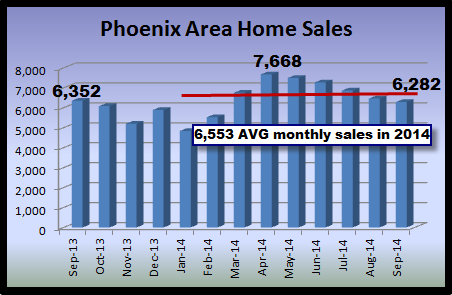 The below chart shows "foreclosure-type" sales over the last eight Septembers. By foreclosure-type sales we mean bank owned homes (REO's) and short sales. Phoenix foreclosures have returned to normal levels and that's where they appear ready to stay. There are no increases in the number of Notices of Default (NOD's). As seen in the below chart, 2009 and 2011 had the most foreclosure-type sales in the Phoenix real estate market. Foreclosure sales have averaged 10% of all home sales for 2014.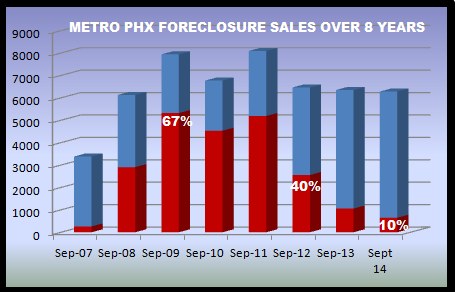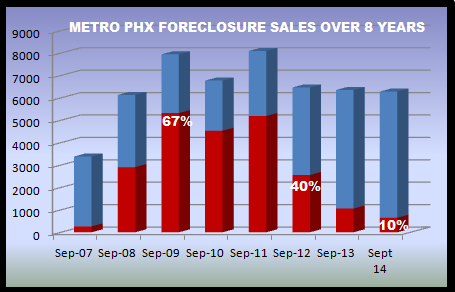 Price per square foot was $128 in September 2014. The average over the last year has been $126. Price per square foot peaked in March and April at $130.
It seems a little contradictory that home sales are slow and yet the price per square increased. That is, until you understand there were an above average number of luxury home sales (19 properties) completed  for over $2,000,000 in September 2014, up from September 2013.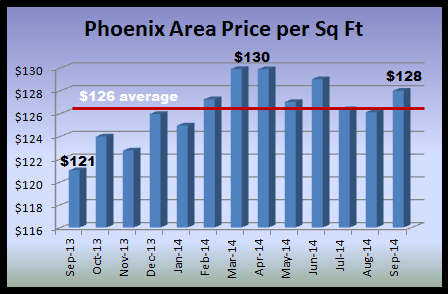 Investors in the Phoenix Real Estate Market
… sales to investors are down 36.1%. However sales to non-investors are up 6.3%.
We are paid subscribers to the Cromford report. Here is some information from Mike Orr's extensive research:
"There were 6,930 deeds recorded with affidavits of value in Maricopa County during September. Only 901 of these were sales to investors, which is 13% of the total. One year ago in September 2013 we saw 7,084 deeds with 1,410 being sales to investors. So total sales are down 2.2% and sales to investors are down 36.1%. However sales to non-investors are up 6.3%."
Additionally:
"Only 15.45% of sales recorded in Maricopa County during September showed a buyer from outside Arizona. That is the lowest percentage since November 2008. Californians were down to 3.54% and Canadians down to 1.11%. The equivalent numbers in 2013 were 3.77% and 1.68%. The Canadian percentage is the lowest since September 2007."
Financing and Sales
Let's take a year-over-year perspective. Sales in September 2013 were unusually weak and were blamed on the government shutdown. Sales in September 2014 were slightly weaker. This time it may be a result of the lack of financing available to ordinary homeowners. High lending standards  can have a negative effect on potential home buyers, and therefore overall housing demand. A recent article in Time magazine declared Ben Bernanke, former Federal Reserve Chairman could not successfully refinance his house, based on current lending rules. See the article here:
time.com/money/3457832/former-federal-reserve-chair-ben-bernanke-cant-refinance-his-home/
What hope do the rest of us have?
Create a Real Estate Portal
ADVANTAGES of a PORTAL ACCOUNT:
Save your searches
Get updates on listings
Track listings
Add notes and messages
Personalize your dashboard
Share on social networks