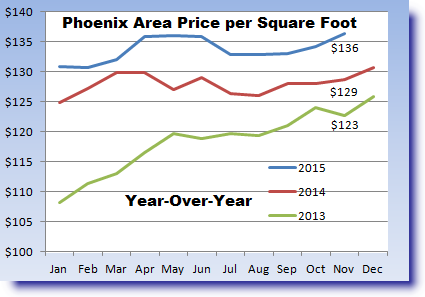 Total Home Sales
Our Phoenix Real Estate Report for November 2015 found 5,348 residential home sales recorded. These numbers include single family homes, patio homes, townhomes, condos, and both manufactured and mobile homes. Sales were up 7% from December 2014 when total sales numbered 4,998 property sales.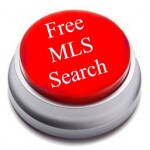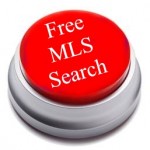 The below chart indicates a year over year comparison for the years 2013, 2014, and 2015. You'll notice the trends are fairly identical each year with sales growing in spring, peaking in summer, and declining through fall and winter. It's notable that November sales are higher than the previous two years. Additionally, total sales through November 2015 have already exceeded all 2014 property sales as of this Phoenix Real Estate Report.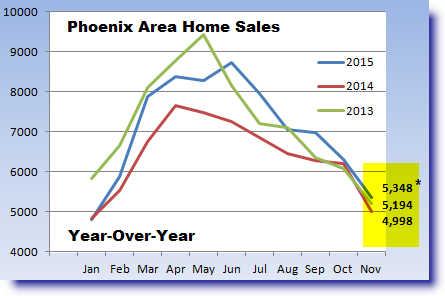 Active Listings on the MLS
There were 21,511 property listings on the MLS to begin December 2015. That's 17% less than the 26,000 listings that are normal for the Phoenix area. That number has crept up from the year-low 19,147 listings found in September. Listings have been low throughout most of 2015. Lack of homes on the market has been a big factor in creating the seller's market we saw throughout 2015.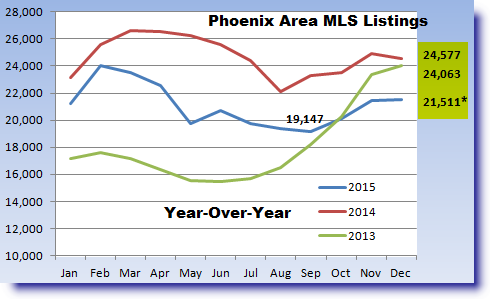 Housing Price per Square Foot
The price of an average home sale reported in our Phoenix Real Estate Report for November was $136 per square foot. That's the highest number since 2008. It matches the annual high found in the months of April through June. The graph indicates prices have risen over each of the last few years. The contributing factors to rising home prices are low inventory, brisk demand, looser lending standards, and the normal appreciation found in markets without many foreclosures.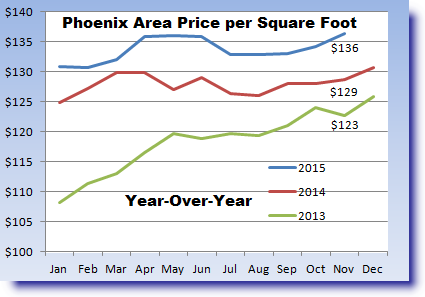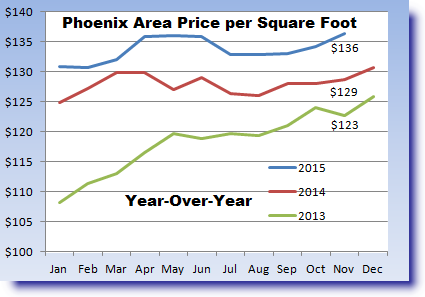 Days on Market
Time to sale (known as "days on market") commences on the first day a listing is on the MLS. It's recorded as the time it takes to get a property under a valid contract that closes escrow. Sometimes it includes a contingency period as the buyer is going through home inspections and other due diligence.
Our Phoenix real estate report indicates 73 days to sale in November 2015. This time has steadily dropped over 2015. We must go back two years to find another time when days on market were in the low 70's. This is another byproduct of our sellers market. Note the difference between overall days on market and those for short sales, which are more than double.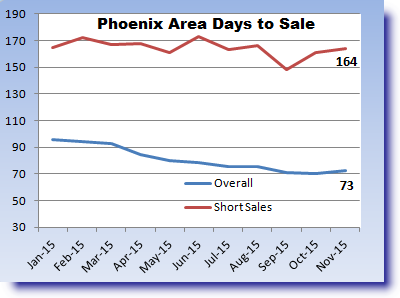 Phoenix Real Estate Report Summary
The Cromford Market Index® (CMI) shows we are still in a seller's market. However, we are moving towards a more balanced market. The current 130 level is largely thanks to areas like El Mirage, Glendale and Avondale where supply is very low and sellers remain firmly in control. Without these areas the CMI would be quite a bit lower.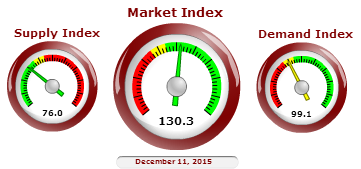 From the Cromford Report:
Supply continues to be short for listings under $250,000. This price range makes up 64% of all year-to-date resales through the Arizona Regional MLS. Short supply with good demand in this price point indicates that positive price appreciation will continue over the next few months.
Despite the shortage of competing listings under $250,000, there has been a 25.6% increase in seller price reductions in this price range from an average of 91 reductions per day at the end of June to 113 per day at the beginning of December and appears to be rising at the moment. This implies that high demand has created an overly optimistic opinion of market value in this price point. While sale prices are continuing to rise, they are at a more conservative pace than some sellers would like.
The most recent Home Opportunity Index (HOI) released by the National Association of Home Builders and Wells Fargo, which measures buyer affordability, measured 70.9 for Phoenix compared to 62.2 nationally. This indicates that a family making the median household income in Phoenix (reported at $64,000 annually) could afford 70.9% of the homes sold in the 3rd Quarter of 2015 given today's lending standards. Normal range is between 60-75%.
See more information about our Phoenix Real Estate Report by clicking on "Information Hub" link on the right.