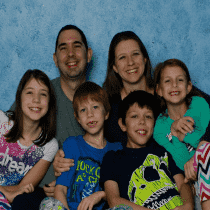 Review for Tempe Realtors
Ron and Kristina are amazing! Their assistance with selling our old Tempe home and buying our next Tempe home was top notch. Their customized approach helped us get the best price for the house we were selling, which sold in just three days!
Their flexible schedule was incredibly helpful for our busy family. They always made time to talk with us about our options and explored strategies that would help us achieve our goals. When looking for our next home they took time to learn about what our family's needs were so they could show us only homes that would be a good match for our family.
Experience matters! Ron and Kristina have the experience and expertise to get you the best price on the home you are selling and the best price on the home you are buying! They took the time to answer our questions and explain things we didn't understand. We recommend them to anyone buying or selling their home.
Ron & Jennifer Brown
June 2017
Review for Tempe Realtors
More Realtor Reviews
Buy a Home
Review for Tempe Realtors

Why Choose Us to Sell or Buy Your Home
Successfully selling homes since 1999
350+ sales
Experienced negotiators
Consistent follow up and follow through
Facts not fiction
Professional staging/design advice
Amazing, professional home photography
Licensed broker
Discounts available for sellers. Home warranties for buyers.
Market Condition Reports and expert advise
Review for Tempe Realtors
provided in June 2017