Be aware of the listing price for that home you want to buy! Make sure you look at comparable market sales before you write an offer to purchase. A home in Scottsdale, or elsewhere, is not magically worth any price the home seller and realtor put on the MLS, regardless of whether or not we are in a seller's market.
A Realtor's number 1 job is to look out for the best interests of their client. Looking out for the client's best interests means, in part, getting the lowest possible price for a property if  representing the buyer. Conversely, it means, in part, getting the highest possible price for the property if representing the seller. This article is about a listing agent we recently encountered who took this part of her responsibility too far, perhaps because of unreasonable pressure from her seller.
It's pretty well known that the Phoenix area  has become a seller's market and home prices are consistently increasing. For more details: Sell my house quickly in Phoenix.  This is not true  in higher end homes. While homes under $300,000 are going under contract in a few hours to  just a few days, Scottsdale luxury homes generally do not fall in that category.
The following chart provided by the Cromford report illustrates this point. According to the Cromford Report:
Contract Ratio indicates how "hot" a market is. It specifically measures the number of completed sales contracts relative to the supply of active listings. It is defined as 100 x (Pending Listings + Active Listings with Contingent Offer) / Active Listings Without a Contingent Offer. The higher the number the greater the buying activity relative to supply. When it moves above 100 we regard this as evidence of a "buying frenzy."
Stated another way, the homes "under contract" and moving towards "close of escrow" are 2.6 times greater than the active listings in Phoenix while they are approximately 0.7 of the active listings in Scottsdale. To make it even more clear, there is such a demand for homes in Phoenix that sellers can be very aggressive in setting a sales price at the top of the market (and in some cases beyond). This is not the case in Scottsdale and sellers must be more cautious to avoid scaring away buyers.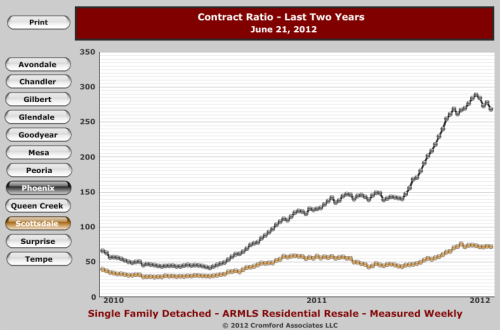 The conversation thus far sets the stage for what's to follow.
Our client was interested in a North Scottsdale  luxury home. I won't divulge the address or listing agent's name because I don't want to poke fun at them personally. The house had been on the market for over one year with an original list price of $750,000. When the house was reduced to $675,000 — and still did not sell — the owner fired the real estate agent and hired a new one.
The new agent listed the house at $680,000. This seems a bit odd because nobody wanted the house for $675,000. However, many listing agents buckle to the demands of the owner and list at an unrealistic price to get the business. The theory is that the owner will eventually "see the light" and sell for a more reasonable price. Sometimes that happens and sometimes it doesn't.
Our buyer liked this 3,762 SF house ($181 per SF ) and below are quotes from the e-mails we exchanged with the listing agent over a price we thought was way too high (remember, part of our job as the buyers agent is to negotiate the lowest possible price).
*** Begin emails ***


FROM US:
"Our client likes your home.  Our problem is finding comps to support $680,000. In the same neighborhood we found
address withheld, Scottsdale, AZ 85259
53.5FRDXPO3G3S and 3,396 SF
Seller asked for $575,000 and took $490,000; closed on 4/2/2012 @ $144.29 per SF
Outside the neighborhood…
…but within 1/2 mile we found 3 homes that averaged:
$545,000 @ 3,279  SF = $166    
Even if we ignore the house that sold in the same neighborhood and we multiply (from  the average just above)  $166 per SF  X 3,762 SF  we get $624,492. Let's not forget that your house needs some serious upgrading.  Do you have any supporting comps? The neighborhood house sold for $144.29 SF.  Looking at all 4 homes it seems like $155 per SF — $583,110 — might be the number our client would offer for this home."
FROM THE LISTING AGENT:
"We are told that there are some other homes ready to close in the neighborhood in the mid to high $700's.  We also believe our larger (largest?)  lot and the backyard views of the mountains are superior to the comps you've mentioned.  The house looks rough, but a redecorating effort will render it one of the area's signatures homes again.  That redecoration doesn't need to cost more than  $80,000-$100,000 with the good bones offered by the home."
FROM US:
"So if I read your email correctly it sounds like you do not have current comps but are waiting for future sales to validate your asking price? AND the house needs a redecoration in the price range of between $80,000-$100,000.  If that is the case our buyer will not buy (and no appraiser will appraise) based on a "future" price.  What supporting  comparable market sales do you have that have sold recently? How did you arrive at the asking price (other than hoping homes will sell for more in the future)?
FROM THE LISTING AGENT:
"Unfortunately, there have been no recent comps, so yes, we are relying on future comps.  Bottom line…the property offers a significant opportunity for someone who wants the guest house, large lot and great view…but they'll have to be willing to pick it up at a good price and probably invest $75,000 to $100,000 in it…Our information tells us that would get a heck of a nice updating.  Please let us know if your buyer would like to submit an offer and we'll be happy to present it!


*** End of e-mails ***
Hmmmm… several e-mails later and it's clear this realtor has a disconnect with reality. The real estate agent and seller are making up a price and hoping someone will pay it (even though you could drop $100,000 for this fixer-upper). Maybe they are hoping to attract a home buyer from California who is used to paying well over $1,000,000 for the same kind of house in the Golden State?
OK, so needless to say our client, who is very well informed and business savvy, did not make an offer on this home.  She found a very nice fixer-upper in Troon for just under $500,000 (that also needs about $100,000 in work).
I should also mention no one else has negotiated a contract on this home almost 30-days later, even in a "seller's market". Yes, 30-days later. I held off writing this article just in case I was way off base with our comparable market sales analysis and the property was indeed worth the price.
Let's get back to looking out for the best interests of your client. In this case the listing agent was not serving her client well by upholding the idea that her home should be priced well above the comparable market sales in the area. It doesn't matter if a house is located in Scottsdale or Surprise, Paradise Valley or Peoria, or Cave Creek or Chandler. Buyers will not be fooled again after the events of 2004-2005.
A house is worth what it is worth. OK, that sounds simplistic but it's true. One possible exception is during a multiple offer situation when many people want the same house, even if it's already listed at a fair market price. In this case the house will go to the highest bidder at a price above market. Some buyers actually agree to pay the difference between the appraisal amount and purchase price "in cash" in the event the house doesn't appraise for the contract amount. For more information read the 3rd paragraph from the bottom in this article: 47 Offers on a Bank Home Foreclosure in Phoenix.
Bottom line: a list price is just that. Do the comparable market sales and make your best offer!