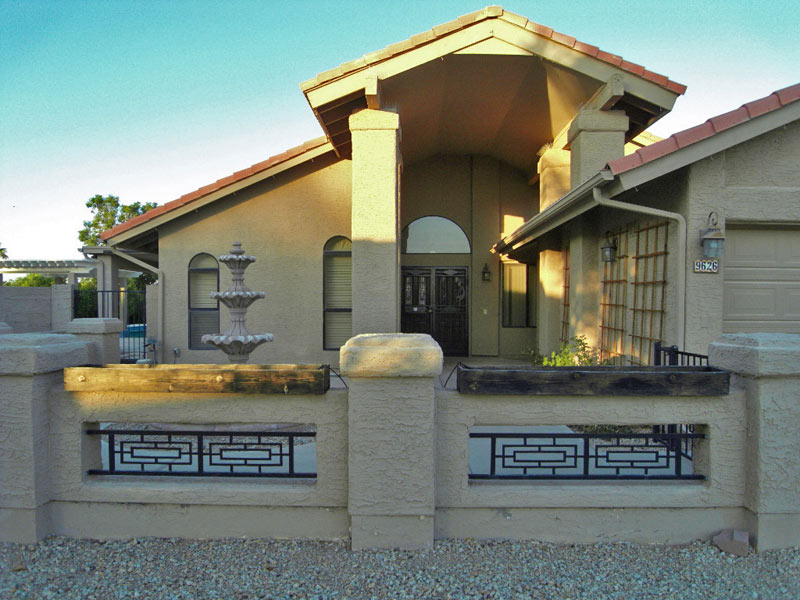 Corporate relocation provides executive retreat opportunity for Sun Lakes Real Estate and the discerning buyer. Owner paid $274,000 and invested approximately $253,000 over six years to make this a resort style Sun Lakes AZ Home for Sale. Top of the line upgrades are too numerous to list and are contained below for more detailed Sun Lakes Real Estate information. Let the upgrade list and pictures do the talking. Scottsdale quality home at a bargain price. There is no other home like it in the area. This retirement community allows residents of 40+ years of age.
Contact us: Sun Lakes AZ Homes for Sale information on this executive style home.
See the 37 picture home show

: Sun Lakes AZ Homes for Sale at 9626 E. Glenside Court.

Sample Pictures:
$335,000
2,540 square feet built in 1986
3 bedrooms, 2 bathrooms,  3 car garage
Resort style pool
Granite countertops and upgrades too numerous too list; click here for more detailed Sun Lakes Real Estate information
Other Listings and Buy Foreclosed Homes Phoenix
Sun Lakes AZ Homes for Sale
UPGRADE LIST: 9626 East Glenside Court, Chandler (Sun Lakes), AZ 85248
Extensively renovated both inside and out with a total renovation cost of approx. $253,750 with all inside renovations occurring in the last 1 –18 months.  Original cost of home $274K.
INTERIOR:  APPROXIMATE AGGREGATE COST $106,500
KITCHEN
•   $62,000 – Expanded footprint and restructure of walls, ceilings, ductwork, exterior windows, tile work and overall layout design as well as high end stainless steel appliances to create a highly functional gourmet kitchen.
o   42" maple cabinets (espresso) with under counter lighting and glass backsplash with tongue and groove full wood/drawer boxes that are self/slow closing
o   42" Kitchen Aid refrigerator, Electrolux dishwasher, Bosch Convection Oven Gaganau Gourmet Steamer ($6,000), Elica European Chandelier Blower/Fan/Light.
o   Brazilian Minsk 3cm granite that includes 15' x 3' raised custom dining/sitting bar.
o   Delta remote sensor fixtures and Ticor deep heavy gauge stainless steel sinks
o   Adjacent custom bar with matching cabinets, backsplash, granite, fixtures and cabinets.
o   Oversized brushed nickel plated ceiling fan (3 speed).
o   Recessed multi-zoned lighting 10 total in 3 kitchen area zones.
o   New French doors with built in shades off the dining/living area and new sliding glass doors of the kitchen/dining area to backyard covered patio.
3rd BEDROOM, HALL and OTHER LIVING AREAS
•   $20,500 – Significant Interior design layout and upgrade that include wall construction, lighting and tile work, etc. related to conversion of existing office to a 3rd large bedroom as well as building a 12' storage closet with 3 sliding doors in the hallway.
MASTER / GUEST BATH and UTILITY ROOM
•   $24,000 – Master bath renovation includes custom designed travertine and concrete bath/shower with inlaid custom tile work interwoven in design and Kohler high end fixtures as well as cabinets/vanities, granite counter tops, linen closet, etc..
OUTSIDE: APPROXIMATE AGGREGATE COST $147,250K
Extensive improvements, upgrades and inclusions to the lot to convert the property into a highly private resort like setting with multiple sitting, gardening, swimming and entertainment areas.
•   $78,000 – 52' x 20' custom built in pool with multi color underwater lighting; 12'x14'x12' combination in water/outside of water covered pergola; 3ft to 91/2ft in depth; swim outs on both sides and ends;  6" deep sunbathing/resting platform (8'x 5'); heavy duty/capacity pool equipment
•   $21,750 – 42' x 14' x 9' custom covered patio that was built around single span crane laid I-beam construction;  3 ceiling fans; 8 zoned lights with specialty LED lighting  (non insect attracting);  and includes cable TV set up and 3 separate 8'x8' sunscreen privacy shades.
•   $12,000- Custom designed outside fireplace spans 20ft. & includes in laid flagstone seating
•   $6,000 – 5 raised gardens with individual irrigation and paver walkways between
•   $9,500 – 2,000+sq. of custom designed specialty Florida tile (cool deck surface) pavers and brickwork separate pavers and walkways that is spread across multiple sitting/lounge areas
•   $20,000- landscaping that includes brick paver work to outline 1500+ sq ft. of grass; stepping stone walkway to grape arbors;  mature trees and related irrigation; 4 separate outside hose areas; Multi-zone low level lighting