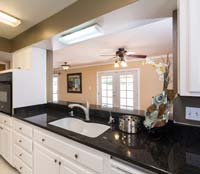 Opportunity knocks with this wonderful Tempe home for sale in a great location! Get to Hudson Elementary and Hollis Park in under 1 minute. Fall in love with the updated kitchen with granite counter tops. Enjoy the large arcadia and French doors leading to the patio and back yard. Enough updating to be move in ready, yet opportunities are there to add your own customizations. Let the pictures do the talking for this wonderful Tempe home for sale.
1268 E PEBBLE BEACH DR Tempe, AZ 85282
$229,500
1,647 square feet
3 bedrooms, 2 bathrooms, 2 car carport (room for 6 cars)
Updated kitchen with granite
Sample Pictures:
Notable places within a three-mile radius:
Arizona State University and Mesa Community College
Sprouts and Whole Foods
Fry's and Safeway Supermarkets
Target and Wal-Mart
Lowes Home Improvement
Walgreens and CVS
Dairy Queen, Baskin-Robbins, and Cold Stone Creamery
Big 5 Sports
Numerous places to eat
Phoenix Area Housing Market statistics and market conditions
What's Your Home Worth? Free Home Valuation
Here are some Tempe highlights as found in on the official Tempe website, Tempe.gov. Be part of the Tempe Community by buying this 3 bedroom 2 bathroom Tempe home for sale.
Tempe is one of the 100 Best Communities for Young People, according to the America's Promise Alliance. The award honors outstanding efforts on behalf of young people by multiple sectors of communities.
In a recent poll by the O'Neil Associates/ASBA Arizona Economic Indicators Monitor, Tempe ranked as the Arizona city with the highest quality of life and the best downtown.
Tempe named North American City of the Future : Tempe and the Greater Phoenix Metropolitan Area were recognized as North American Cities of the Future for 2009/2010 by fDi Magazine (Foreign Direct Investment) this month. In the overall category of Major Cities of the Future, Phoenix ranked 10th in North America with other cities in the United States, Canada and Mexico. In the category of Small Cities of the Future, Tempe was fifth in North America for best human resources, meaning best potential employees,
following cities such as Pasadena and Minneapolis. Tempe also had the fifth largest number of post-secondary students in North America for cities of its size.
Tempe is the Most Walkable City in Arizona, according to Walkscore.com. Downtown Tempe's Mill Avenue District scored 98 out of 100 for one of the best places to take a healthy walk.