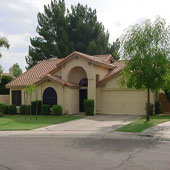 Warner Ranch Home Sales, Under Contract, and Active

This report covers Warner Ranch home sales for September through November 2014. The characteristics of these homes include:
1,304-3,238 square feet
$215,000 – $459,900
3-6 bedrooms
32 of 40 had pools
all homes were built by UDC (Standard Pacific Corporation acquired UDC homes Inc. in late 1998)
homes were built between 1985 and 1996
18 of the 40 are located in Chandler

See all Homes for sale in Warner Ranch including floor plans and community information.
See all Homes for sale in Tempe AZ, a resource for all properties on the market. 
Here is a summary of Warner Ranch home sales provided in an easy-to-read table:
| | | | | | |
| --- | --- | --- | --- | --- | --- |
| STATUS | QTY | AVG PRICE | AVG SIZE | AVG $$ per SF | Days to Contract |
| Sold Sept-Nov 2014 | 17 | $313,029 | 2,193 | $146 | 74 |
| Under Contract | 8 | $377,213 | 2,452 | $154 | 96 |
| Currently Active | 15 | $360,136 | 2,471 | $146 | 89 (and counting) |
Warner Ranch Home Sales
This is the detailed property list for all Warner ranch home sales during the period of September through November 2014. Note that the 8 properties under contract and 15 currently for sale are also included in this detailed summary.  We provide you with the most up to date and accurate information for Warner Ranch home sales:
Buyers looking to purchase a home in Warner Ranch Tempe, AZ 85284 or Chandler, AZ 85226 
| | | | | | | | | | | | | | | | |
| --- | --- | --- | --- | --- | --- | --- | --- | --- | --- | --- | --- | --- | --- | --- | --- |
| Closing Date | Original Price | List Price | Sold Price | Price/SqFt | House Number | Compass | Street Name | City | SQFT | Year | # Bed | # Bath | Levels | Pool | Lot SqFt |
| 9/4/2014 | $329,000 | $320,000 | $310,000 | $157 | 118 | W | JEANINE | Tempe | 1,979 | 1985 | 3 | 2 | 1 | Private | 8,690 |
| 9/8/2014 | $335,000 | $329,000 | $319,000 | $145 | 9882 | S | Grandview | Tempe | 2,197 | 1989 | 4 | 2 | 1 | Community | 8,573 |
| 9/12/2014 | $289,000 | $275,000 | $262,500 | $131 | 8 | E | DAWN | Tempe | 2,003 | 1986 | 3 | 3 | 2 | Community | 6,003 |
| 9/19/2014 | $289,000 | $289,000 | $287,000 | $134 | 47 | E | LA VIEVE | Tempe | 2,140 | 1986 | 4 | 3 | 2 | Community | 4,674 |
| 9/25/2014 | $299,900 | $299,900 | $290,000 | $182 | 9497 | S | Michele | Tempe | 1,592 | 1990 | 3 | 2 | 1 | Both | 6,220 |
| 9/25/2014 | $447,000 | $439,900 | $435,000 | $138 | 5622 | W | GARY | Chandler | 3,160 | 1993 | 5 | 3 | 2 | Private | 9,405 |
| 9/26/2014 | $459,000 | $419,900 | $405,000 | $156 | 6113 | W | DUBLIN | Chandler | 2,602 | 1994 | 4 | 3 | 2 | Private | 6,011 |
| 10/15/2014 | $215,000 | $215,000 | $215,000 | $165 | 8847 | S | Lori | Tempe | 1,304 | 1987 | 3 | 2 | 1 | Community | 3,960 |
| 10/17/2014 | $273,000 | $266,500 | $256,000 | $122 | 56 | E | GREENTREE | Tempe | 2,098 | 1986 | 3 | 3 | 2 | Community | 4,731 |
| 10/20/2014 | $279,900 | $275,000 | $273,000 | $143 | 1040 | N | ASPEN | Chandler | 1,903 | 1991 | 3 | 2 | 1 | Private | 6,003 |
| 10/22/2014 | $295,000 | $295,000 | $292,500 | $162 | 6563 | W | Ivanhoe | Chandler | 1,801 | 1994 | 3 | 2 | 1 | Private | 7,599 |
| 10/23/2014 | $357,500 | $357,500 | $350,000 | $137 | 5920 | W | PARK | Chandler | 2,554 | 1991 | 4 | 3 | 2 | Private | 7,362 |
| 10/29/2014 | $380,000 | $380,000 | $369,000 | $159 | 383 | W | STACEY | Tempe | 2,323 | 1990 | 3 | 2 | 1 | Private | 10,644 |
| 10/30/2014 | $259,000 | $257,000 | $250,000 | $166 | 50 | W | GREENTREE | Tempe | 1,505 | 1988 | 3 | 2.5 | 2 | Community | 4,129 |
| 11/19/2014 | $418,900 | $359,999 | $360,000 | $115 | 6080 | W | SHANNON | Chandler | 3,139 | 1993 | 5 | 2.5 | 2 | No Pool | 6,307 |
| 11/21/2014 | $309,500 | $309,500 | $287,500 | $150 | 1061 | N | ASPEN | Chandler | 1,915 | 1992 | 3 | 2 | 1 | No Pool | 6,682 |
| 11/26/2014 | $409,488 | $374,999 | $360,000 | $117 | 913 | N | KRISTIN | Chandler | 3,069 | 1994 | 5 | 2.75 | 2 | Private | 6,704 |
| Contract pending | $445,000 | $445,000 | N/A | $170 | 101 | W | COURTNEY | Tempe | 2,616 | 1988 | 3 | 2 | 1 | Both | 11,273 |
| Contract pending | $475,000 | $449,900 | N/A | $168 | 123 | E | VERA | Tempe | 2,681 | 1988 | 4 | 2.5 | 1 | Both | 13,464 |
| Contract pending | $499,900 | $459,900 | N/A | $163 | 1011 | N | FIR | Chandler | 2,821 | 1993 | 4 | 2.5 | 1 | Private | 11,204 |
| Contract pending | $375,000 | $375,000 | N/A | $159 | 6303 | W | MEGAN | Chandler | 2,361 | 1994 | 3 | 2 | 1 | No Pool | 8,533 |
| Contract pending | $355,000 | $349,900 | N/A | $154 | 757 | E | COURTNEY | Tempe | 2,276 | 1989 | 4 | 2 | 1 | Both | 7,993 |
| Contract pending | $274,900 | $253,000 | N/A | $152 | 6071 | W | SHANNON | Chandler | 1,667 | 1995 | 3 | 2 | 1 | Private | 6,011 |
| Contract pending | $452,000 | $445,000 | N/A | $135 | 6251 | W | LINDA | Chandler | 3,293 | 1995 | 5 | 3.5 | 2 | Private | 11,711 |
| Contract pending | $240,000 | $240,000 | N/A | $126 | 1022 | N | Maple | Chandler | 1,903 | 1993 | 4 | 2 | 1 | No Pool | 6,482 |
| For Sale | $279,900 | $279,900 | N/A | $176 | 204 | W | VERA | Tempe | 1,592 | 1989 | 3 | 2 | 1 | Community | 5,894 |
| For Sale | $459,900 | $459,900 | N/A | $176 | 132 | E | COURTNEY | Tempe | 2,616 | 1988 | 4 | 2 | 1 | Community | 11,256 |
| For Sale | $389,900 | $389,900 | N/A | $166 | 236 | E | GREENTREE | Tempe | 2,344 | 1986 | 3 | 2.5 | 1 | Private | 10,920 |
| For Sale | $259,000 | $259,000 | N/A | $163 | 78 | W | LA VIEVE | Tempe | 1,588 | 1988 | 3 | 2.5 | 2 | Community | 4,427 |
| For Sale | $340,000 | $319,000 | N/A | $157 | 372 | W | STACEY | Tempe | 2,034 | 1990 | 3 | 2 | 1 | No Pool | 8,969 |
| For Sale | $355,000 | $346,900 | N/A | $157 | 9025 | S | DATELAND | Tempe | 2,214 | 1986 | 4 | 2 | 1 | Private | 8,377 |
| For Sale | $310,000 | $310,000 | N/A | $157 | 182 | W | CAROLINE | Tempe | 1,979 | 1985 | 4 | 2 | 1 | No Pool | 8,677 |
| For Sale | $449,000 | $442,500 | N/A | $155 | 993 | N | DUSTIN | Chandler | 2,850 | 1995 | 3 | 2.5 | 1 | Private | 10,611 |
| For Sale | $292,000 | $287,500 | N/A | $140 | 8866 | S | GRANDVIEW | Tempe | 2,053 | 1990 | 3 | 3 | 2 | Community | 5,824 |
| For Sale | $440,000 | $430,000 | N/A | $133 | 537 | E | KELLY | Tempe | 3,238 | 1996 | 6 | 2.5 | 2 | Private | 9,522 |
| For Sale | $369,900 | $369,900 | N/A | $132 | 6168 | W | MEGAN | Chandler | 2,812 | 1993 | 4 | 3 | 2 | Private | 6,913 |
| For Sale | $380,000 | $370,000 | N/A | $131 | 9681 | S | PALM | Tempe | 2,825 | 1991 | 5 | 3 | 2 | Both | 14,222 |
| For Sale | $349,900 | $339,639 | N/A | $131 | 6079 | W | MEGAN | Chandler | 2,602 | 1993 | 4 | 3 | 2 | No Pool | 6,307 |
| For Sale | $419,000 | $385,000 | N/A | $127 | 1021 | N | FIR | Chandler | 3,030 | 1993 | 5 | 3 | 2 | No Pool | 8,433 |
| For Sale | $434,900 | $412,900 | N/A | $125 | 6312 | W | LINDA | Chandler | 3,294 | 1996 | 5 | 3 | 2 | Private | 8,786 |