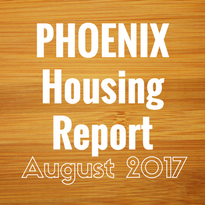 Phoenix Area Housing Market Recap
August 2017 was another good month for housing sales in the Metro Phoenix Area. 8,176 transactions were completed. That's slightly higher than July. Year over year sales were up 2% from 7,997 in August 2016. We have a fair comparison because both August 2016 and August 2017 had the same number of working days (23) .
True to history, sales in 2017 peaked in May and began their annual decline throughout late summer and fall. The lowest sales happen each year in January. The home sales cycle in Metro Phoenix loosely resembles a bell curve.
More PHX Area Estate Market Reports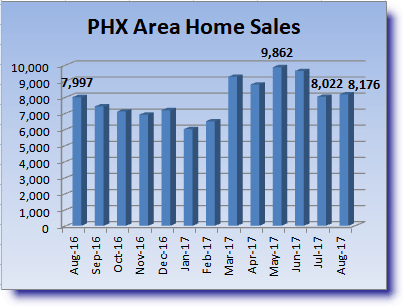 Housing Inventory

The biggest news in our Phoenix Area Housing Market Recap remains active MLS inventory. 26,000 listings has been the long-term average for the Metro Area. The interesting thing is: after the bottom of the market in 2011 — and after so much excess inventory was cleared —  we have averaged about 20,000 listings per-month. That's from the beginning of 2012 until now, or almost 5-years. Maybe 20,000 listings is the new and "post apocalyptic normal."
That means current MLS inventory is about 32% below the "26,000" level" and 12% below the post apocalyptic average of 20,000.
Each time this year our Phoenix Area Housing Market Recap reports a gradual & cyclical fading of demand. The serious shortage of supply in today's inventory obscures that fade. We will continue to experience a "seller's market" until supply begins to steadily increase or demand drops off.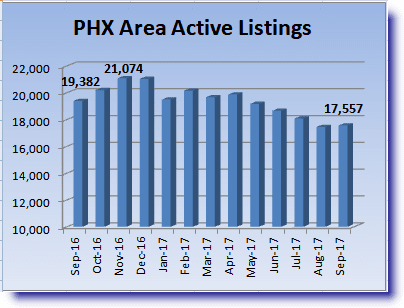 Each listing our brokerage has acquired over the last 2 years has generally sold in a few days, most with several offers/interested parties. Those results are obtained because of home staging, photographing, and marketing techniques.
However, limited inventory is definitely a friend to home sellers. Home buyers should be prepared to act quickly when new listings hit the market. After reading this Phoenix Area Housing Market Recap you'll agree buyers won't be having increases in bargaining power anytime soon.
Buy Your Home
Request Home Valuation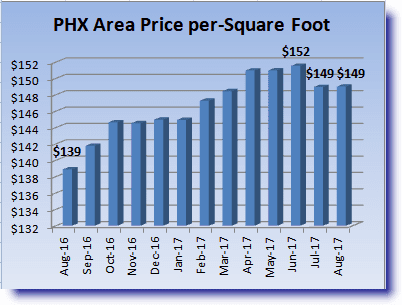 Housing Prices
$149 per square foot in August is $10 more than August 2016. You would expect that in a seller's market. The $149 is lower than the $151 and $152 in May – June. However, according to Mike Orr of the Cromford Report:
"This downward pattern is normal for the time of year and does not reflect any deterioration in market conditions. The luxury market loses a lot of sales volume during the hottest months, whereas the rest of the market slows to a lesser extent. We expect the upward price trend to resume once we get to the end of September."
Housing Index
Long-time readers of our Phoenix Area Housing Market Recap will remember the Cromford Market Index® (CMI) provides an illustration of the housing market. Green numbers favor sellers and red numbers favor buyers. The 157.4 overall Market Index is an indication of a strong seller's market.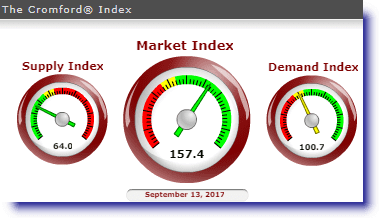 Here's a look at the hottest seller's markets in the Phoenix Area: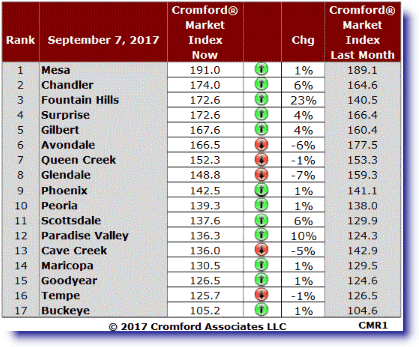 Phoenix Area Housing Market Recap published by Broker and Owner, Ron Wilczek, Metro Phoenix Homes.