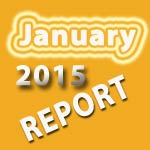 January is usually the slowest sales month of the year and 2015 was no exception.
4,791 home sales were recorded within the Arizona Regional Multiple Listing Service, referred to as the Phoenix MLS. That amount was 1% lower than the year-over-year sales for January 2014. This count is measured across all residential home sales including single family residences, townhomes, condominiums, manufactured homes, and patio homes.
Metro Phoenix Housing Market Report: Sales
The chart gives a good visual depiction of sales activity in January and over the previous 12 months.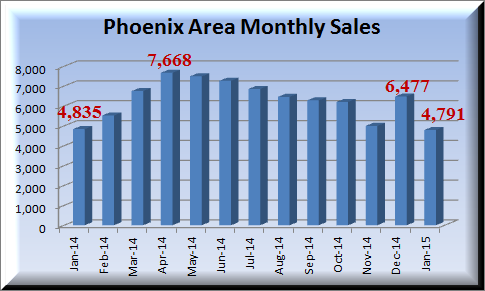 Those who read our monthly report know home sales in 2014 were the lowest since 2008. Home sales during 2014 averaged 6,385 transactions per month. In the 15 years since the year 2000, calendar year 2014 ranks 9th in terms of total home sales.
Housing Inventory
Our Metro Phoenix Housing Market Report shows that low housing inventory has been the only reason 2014 was not a runaway for home buyers. January held true to this trend. Normal home inventory is 26,000 listings for Metropolitan Phoenix. January began with 21,193 homes for sale and February began with 24,048. The low housing inventory, when paired with low sales, helped to keep things relatively balanced.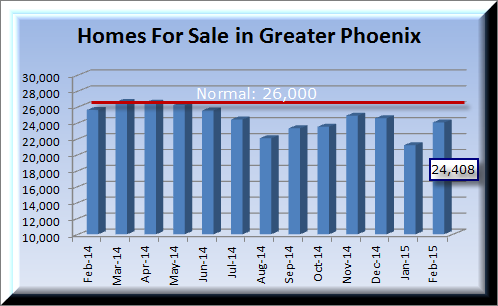 The balanced housing market  is graphically depicted in this Cromford Market Index® courtesy of the Cromford Report. An index of 100 indicates perfect balance between supply and demand. Anything less than 90 represents a pretty good advantage to homebuyers. Anything greater than 110 represents a pretty good advantage to home sellers.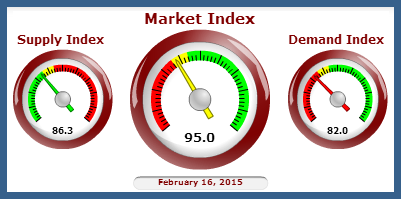 Sales Price per Square Foot
Sales prices remained unchanged from last month. Both December and January recorded sales prices of $131 per square foot. You can see in the chart that home prices have not deviated more than +/- $3 per square foot over the last 12 months. I don't know how you can get much more stable than that. I feel safe in stating prices haven't been this stable since before the real estate boom of 2004 and 2005.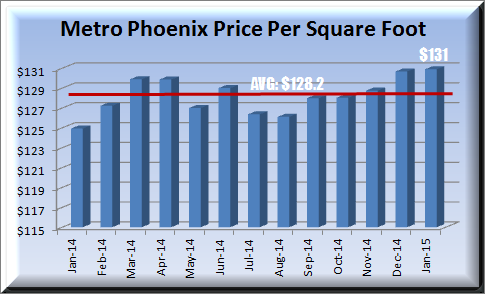 Days to Sale
The time it takes to sell a home in Metro Phoenix is at the highest point in 3 years. Overall sales — including single family homes, condos, townhomes, manufactured homes, and patio homes — have averaged 96 days to sale. The below graph shows short sales take the longest time to sell. Bank properties took half as long in January at 82 days. Normal sales averaged 94 days for this edition of our Metro Phoenix Housing Market Report.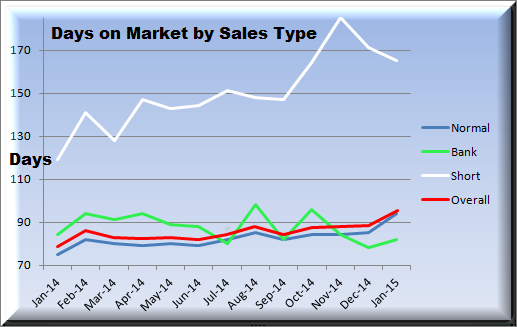 Housing Outlook
Pending listing counts are moving up much more than they did last month or last year. That should lead to good demand during the spring selling season and no significant downward pressure in pricing.
According to the Mortgage Bankers Association (MBA) purchase loan applications for FHA loans increased with purchase applications up 12.4%.
Supporting the pessimists we saw weaker sales counts than last year (down 1.7%).
Supporting the optimists, the active listing count (excluding UCB) rose only 6% during January and remains 6.2% below the same point in 2014. The market is shaping up quite nicely for sellers as long as they are patient.
Improvement in demand may be more connected to former home owners coming back into the market. These were the unfortunate people who had their credit scores ruined after formerly completing short sales and foreclosures.
Visit us again for our Metro Phoenix Housing Market Report.