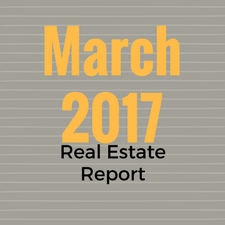 Our Phoenix Area real estate update for March 2017 brings welcome news for the housing sector. Home sales exploded much earlier than normal in the annual sales cycle. 9,266 home sales in March were 42.5% higher than those in February 2017. The below chart gives a visual depiction of the dramatic year-over-year increase, not month over month.  ** Try our Powerful Home Search Map. **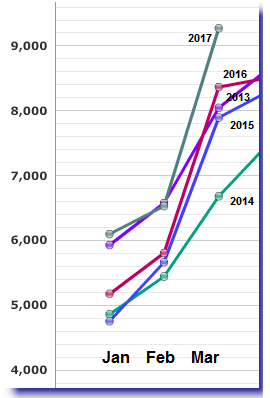 The information below goes back to March 2011 when the market was at rock bottom.
Mar 2017 – 9,266
Mar 2016 – 8,546
Mar 2015 – 7,882
Mar 2014 – 6,750
Mar 2013 – 8,111
Mar 2012 – 8,871
Mar 2011 – 9,913
Home sales typically reach the 9,000+ sales level closer to the peak buying months of May through July. This is terrific news for the local economy.
Active MLS Listings
Our Phoenix area real estate update reports that more listings entered the Phoenix MLS in March than at any time in the last 4+ years. However, increased March sales canceled out any net gains in housing inventory. MLS inventory is still down over 20% from the normal listing inventory of 26,000 properties.
Apr 1, 2017 – 19,861 listings
Mar 1, 2017 – 19,665 listings
Feb 1, 2017 – 20,152  listings
Jan 1, 2017 – 19,492 listings
The current level of supply and demand continues to keep us in a housing market that favors sellers. Anything over 100 on the Cromford Market Index indicates a seller's market. The index has not been under 120 since early 2015.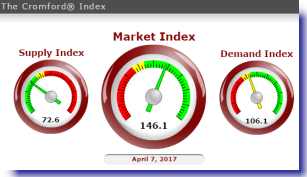 Lowest Distressed Listings in over 10 Years
After reaching a high of 52% back in January of 2011, foreclosure-type listings (bank properties and short sales) have been under 10% for almost 4 years. They have been under 5% for the last 2 years.To begin April 2017 they reached another milestone: just under 2%.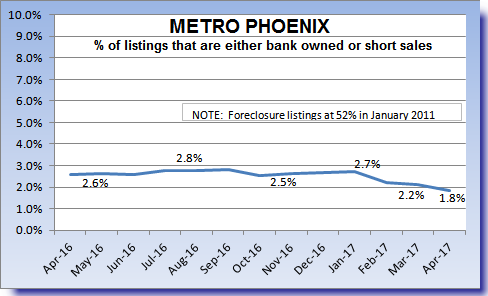 Our Phoenix area real estate update doesn't expect to see that trend changing anytime soon. At just 3.4% Metro Phoenix has the 8th lowest home loan delinquency rate in the nation, according to Black Knight Financial Services.
For more information see:
For previous editions of our Phoenix area real estate update click here: Monthly Housing Summaries