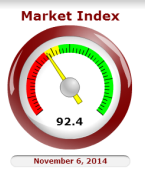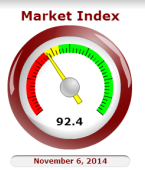 The Phoenix Real Estate Market is no longer the volatile landscape of the past. Gone are the property bidding wars and vast amounts of dirt cheap foreclosures. Gone are the rumors of another housing bubble. Gone are the rumors of foreclosure shadow inventory. Gone are the days of hedge funds buying up mass quantities of real estate to turn into rentals. You might say things have become pretty boring. Welcome to the new "normal."
Let me show you how things are normal.
HOUSING PRICES
Below is a graph of housing prices (per square foot) from October 2013 through October 2014. Notice the average price during this period is $127 per square foot. The average for October 2014 was $128. Now notice that  — except for $123 in November 2013 — home prices have never deviated more than plus or minus $3 per square foot during this time. This illustrates just how stable prices have become in the Phoenix real estate market.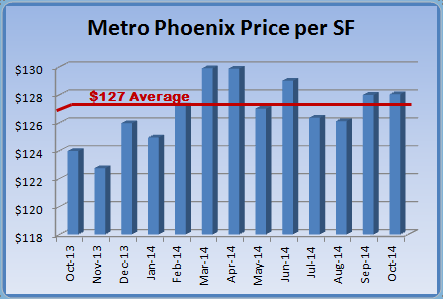 Compare this to the below chart which reflects the time period from January 2000 to the present time. This chart is courtesy of the Cromford Report. Click on it to expand it for greater detail. The real estate boom began in 2004. That's when property appreciation started its rapid acceleration. The peak was reached in 2006 and housing values started a rapid depreciation.
The low point in the Phoenix real estate market was reached in 2011 and foreclosures ran rampant across the landscape. Prices were so cheap that hedge funds and investors bought massive amounts of property. This started bidding wars and rapid appreciation. Foreclosures were soon gobbled up and all but disappeared. Without foreclosures to interfere homeowners didn't have to compete with inexpensive property. That's where we are today in 2014.
Note the green line I superimposed on the chart. It indicates that the normal appreciation we had between the late 1990's and 2003 (standard 3 to 5% annually) would take us right to where we are today. It's almost as if the housing boom and housing bust never happened. Well, except for the massive profits made by some and financial scars left on others.  I wrote about this back in February 2014: What if the boom and bust never happened. What better indication that we are back to normal.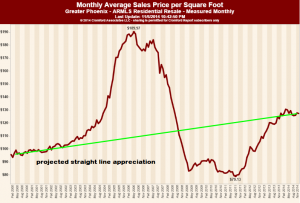 SUPPLY AND DEMAND
Both supply (housing inventory) and demand (monthly housing sales) are lower than normal. This has resulted in the Phoenix real estate market being relatively calm. However, in most areas the market continues to gently deteriorate for sellers. The ultra-high end luxury market for custom homes still retains the best demand relative to historic levels.
The below housing inventory graph shows property listings in the Phoenix MLS to be below normal. There has been a gentle increase over the last 3 months with 24,904 active home listings for sale to begin November.
The next the graph compares historical sales in the Phoenix real estate market from 2012 and 2013 with the current year. All year long we've been writing how home sales are the lowest in the past 6 years. We know that's because investors have all but pulled out of our housing market. Investor sales used to account for 30% of sales in our market. They've been under 15% for most of this year.
We mentioned last month that home sales to owner occupants are on the increase. Housing Market: Good and Bad. That's a good sign for the Phoenix real estate market. It generally indicates consumers have regained confidence in owning a home.
Another sign of increased stability is the consistency in home sales during 2014. Contrast that with more erratic home sales of 2013 and 2012. Note that October is the only month with more housing sales than 2013.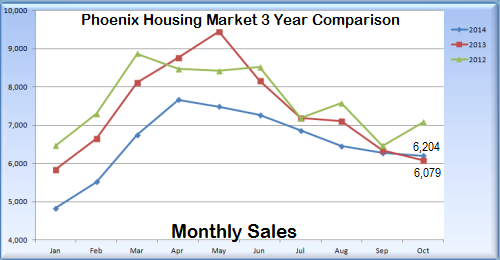 PHOENIX FORECLOSURES
Notices of default (NOD's) in Maricopa County are still exceptionally low according to the Cromford Report. That means there are much fewer homes going into foreclosure. The below chart illustrates that foreclosure type properties (bank owned homes and short sales) have accounted for 10% of housing sales in 2014. Even banks have been selling properties for near market value. The same applies for short sales. Most lending institutions no longer want to heavily discount property. This has added the stability to the Phoenix real estate market.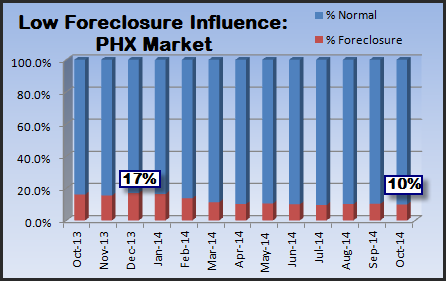 Finally, the below chart illustrates the average time to sale (known as days on market) for different property types. These property types include normal sales, bank owned property, and short sales. Normal sales currently take half the time of short sales and 12 less days than bank sales. Days on market increased by 35% over the last year.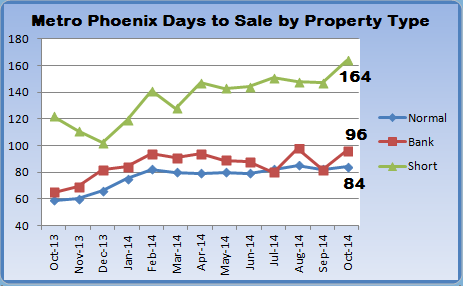 PHOENIX REAL ESTATE MARKET OUTLOOK
The Cromford Market Index®  currently sits at 92.4. Scores below 100 indicate a buyers market and those above indicate a seller's market. The primary reason for the buyers market is the low demand for housing which is represented by lower home sales.
This type of market allows home buyers to make offers less than asking price. Many times home buyers can get concessions from home sellers to pay 3% of the purchase price back to the buyer. This allows home buyers to reduce their closing costs and make purchasing a home more affordable.
There are 2 ways to revert to a sellers market: 1.) many more buyers come to the market and 2.) property listings dramatically increase. There is no sign that either one of those happening anytime soon. We are in the new normal.