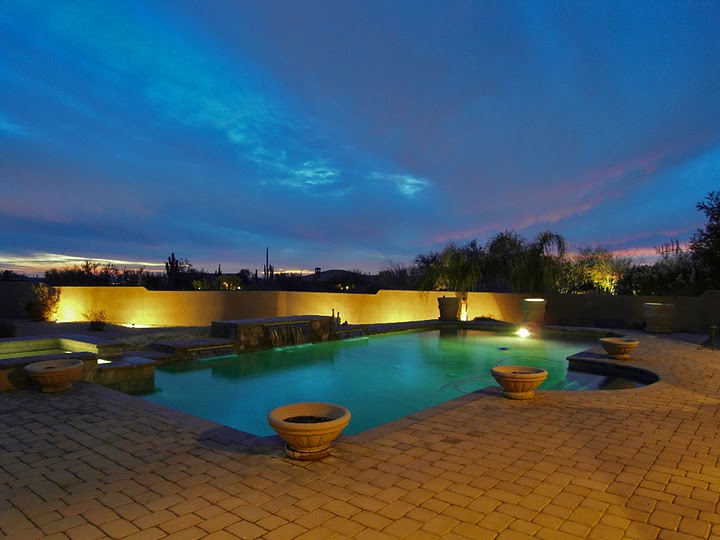 Phoenix / Scottsdale Luxury Homes are off of most people's radar because a smaller percentage of people are willing (or able) to spend $1,000,000 or more for a home. By the way, depending who you talk to Scottsdale Luxury Homes could be classified as properties over $750,000 or over $1,000,000. Yet we are all fascinated with the designs, features, and locations of these Phoenix Area and Scottsdale Luxury Homes.
Click the link if you're interested in seeing Scottsdale Luxury Homes over $4,000,000.
I like to attend the annual seminar on Scottsdale Luxury Homes offered by the AZ School of Business and Real Estate because there is always good information to learn about luxury trends. Their learned and respected speakers, among whom are Michael Orr, have affirmed that the pricing trends for Scottsdale Luxury Homes follows the normal resale market by approximately 18-months.
Since our normal market hit bottom in the spring of 2011 (see stats here: Housing Tracker and look at the "Total $$ per Sq Ft" column), the Scottsdale Luxury Homes market would have hit bottom in the fall of 2012. However, this article says the bottom was in February of 2012.
Here are excerpts from the article:
"As metro Phoenix home values surged and foreclosures and short sales waned throughout last year, homes priced at the lower end of the market have received …"
"Michael Orr and Walt Danley shows the luxury home market — which accounts for homes priced above $1 million — did not experience the extreme declines as seen in the overall Valley housing market. In addition, values on those homes have been recovering at a slower pace than most."

"The number of Phoenix-area luxury home sales peaked in 2005 at 1,563 — almost four times the sales volume reported four years earlier … luxury prices peaked at $404 per square foot in Dec. 2007."

"But those mega-home values tumbled beginning in 2008 as the housing crisis crippled the Valley. While luxury home values continued to decline for a longer period than those of lower-priced homes, their overall peak-to-trough decline was not nearly as dramatic."

"For example, luxury-home prices hit bottom in February 2012 at $277 per square foot …"
http://www.bizjournals.com/phoenix/news/2013/01/14/phoenix-luxury-home-market-slowly.html
Scottsdale Luxury Homes
Here's a sample video of a Scottsdale Luxury Home (not filmed by us this time, nor is it our listing) for pure entertainment.
Call us at 480-445-9480 for a personal appointment to see some of the finest Scottsdale Luxury Homes on the market.